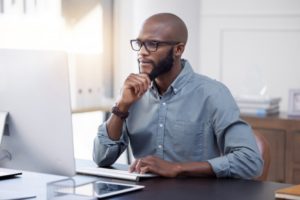 Would life be simpler if your dental practice didn't accept insurance? Probably, but insurance is a monster that's difficult to ignore. However, according to the Office of Disease Prevention and Health Promotion, about 70 percent of people under the age of 65 have dental insurance benefits, which means that accepting insurance opens the door to many more potential patients.
However, working with insurance billing comes with many challenges. Learn more about these challenges and how you can address them by continuing to read the content below.
Problem: Dental Insurance Can Be Complicated.
By comparison, being fee for service is straightforward. The patient pays for the procedures they receive—that's it! On the other hand, working with insurance complicates the process on your end. Not only do you collect a possible co-pay from the patient, but you need to confirm benefits and file a claim with the insurance company, waiting until they approve and pay it in full. Clearly, having an expert in this process can be beneficial for making sure it goes as smoothly as possible.
Problem: Insurance Billing Takes a Lot of Time.
Even before your patient comes into the office for any treatment, their insurance benefits need to be confirmed. This often entails hours of talking to the insurance company—time that could better be spent doing other office-related tasks.
Not only does confirming your patient's coverage require time, but so does filing claims. Your team must make sure they've used the appropriate codes to ensure on-time payment. If the details are not accurate, your practice could get into trouble or not get paid by the insurance company. Contesting denied claims further delays when your practice receives payment, which can put your business in a bad position and put you under unnecessary stress.
Problem: Insurance Billing Can Be Frustrating.
Even for those who have been in the industry for decades, dealing with insurance companies and billing can be extremely tedious and mentally taxing. Your front desk team members are only human, and when they have hours of emotionally draining work, it can be difficult to keep up a friendly smile for patients in the office. As a result, your patients may not have a pleasant experience during their appointments, which could lead to attrition.
The Fix: Outsourcing Billing
Surprisingly, the solution to these billing problems is pretty simple. Basically, you need to find a support company that can handle dental billing instead of your front desk team. They can take on all the complications, irritations, and time-consuming tasks involved in the process for you!
If insurance billing is giving your team grief or seems to be more trouble than it's worth, consider getting support for your billing needs. They can make sure you optimize your patients' benefits and get you paid on time.
About Dental Support Specialties
At Dental Support Specialties, we have assembled a team of administrative experts in the dental field. We know how to handle insurance verification and billing, phone answering, and special projects like chart auditing. How can we help your practice succeed? Just get in touch with us, and we'll schedule a consultation to go through your needs.