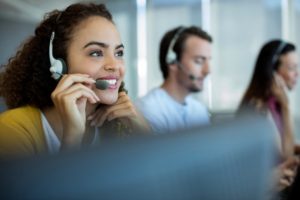 As a dentist, you know education plays a vital role in your success. After all, you attend continuing education coursework every year to keep your skills and knowledge updated. But you also understand the high value of wisdom gained in on-the-job clinical experience.
When looking for an administrative professional or a support company for call-answering services, years of experience count for even more. Why would you rather work with someone who has years in the field over someone straight out of school? Here are just a few reasons to consider.
Some Dental Skills Aren't Learned in School.
As with many professions, working in a dental office requires some schooling, but many parts of working in a dental office come in the practice, not in the classroom. After getting some exposure to the field in school, dental professionals often learn more skills on the job, such as how to manage a nervous patient over the phone and how to file claims and verify insurance benefits.
Someone with experience in the dental field will know how to handle these situations, helping your practice run more smoothly on a day-to-day basis.
Dental Technology and Software Are Always Changing.
Although dental management software suites don't change at the speed of new iPhones, advancements come out regularly. As a result, your administrative team can't just be vaguely familiar with available programs. They must have experience working with software and technology, preferably to the point that they need very little training to adapt to your systems.
When you find an administrative support company that has this kind of experience and evolving industry knowledge, you lose no time or effort in training. They can jump right in and work with your scheduling and management software without skipping a beat.
Experience Working with People Is Essential in Dental Care.
When a patient calls a dental practice, they have unique needs. Although many callers reach out asking about insurance or wanting to schedule an appointment, the conversation requires someone who knows how to welcome the patient—even before they come into the office!
Many people are nervous or unsure about dental visits, but an experienced professional in dentistry understands that a confident, friendly, and helpful response can put a caller at ease and start the entire interaction off on the right foot. When they come in for their appointment, the patient can feel more comfortable and ready to have a successful visit.
Although education in the classroom is still important to have in your administrative staff, their on-the-job experience can be even more beneficial for your practice. Before you hire, make sure you will be working with professionals who know the dental industry and how to serve your patients in the best way possible.
About Dental Support Specialties
At Dental Support Specialties, all our professionals have worked in the dental field for many years. In fact, we collectively have more than 400 years of dentistry experience! Needless to say, when you work with us, you can rest assured that your administrative needs will be well met. To learn more about our experienced staff, you may reach out to us and schedule a consultation.