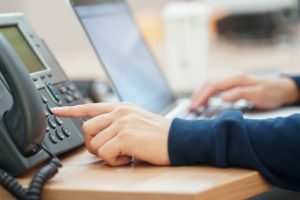 As you come in to work one day, one of your front desk team members submits a time-off request. They are taking a whole week off for their kid's spring break. You obviously want them to have a fun time, but maybe you're worried about how the practice will fare without them. Checking patients in and out shouldn't be too difficult to add to someone else's plate for a week, but you don't know who will answer all the incoming phone calls and keep your schedule filled.
That's where the team at Dental Support Specialties comes in! Unlike other answering service companies, we don't just take messages—we actually work within your schedule and book appointments.
Why Leaving Messages Doesn't Work
When it comes to customer service, people despise machines. They can feel like their voice message goes out to a huge void and wonder if anyone will actually hear and respond to it. Especially if your staff will be out for more than a couple of days, it could be a while before the patient hears back, which doesn't make your practice look good at all.
This reasoning is why some practices take advantage of call centers. Calling and talking to a real person is a great start, but unless that person can actually do something to help, it can feel just as pointless. Leaving a message and waiting to hear back can be tedious and inconvenient for the patient, especially if it's a dental emergency situation. In the meantime, the patient can move on and find another dental practice, which means you've lost your chance for additional revenue.
Why Scheduling Is Important
On the other hand, because Dental Support Specialties can actually book appointments in your schedule, your patients can not only have a conversation with a flesh-and-blood person but also accomplish the reason for their call. You can rest easy knowing they hang up feeling satisfied and your schedule is fully updated and as full as possible.
At Dental Support Specialties, we have access to basically all software suites, so we are likely already familiar with your systems. In fact, our professionals need very minimal training before they can begin. Plus, We are friendly and helpful, doing everything we can to provide the best customer service to everyone who calls your practice.
You shouldn't have to stress about your staff taking time off. When you turn to Dental Support Specialties, the phone lines are covered by professionals who are capable of representing your practice well and setting appointments in your employee's absence.
About Dental Support Specialties
For those needing help with dental administrative tasks, Dental Support Specialties offers a full menu of services, including scheduling assistance, call answering, insurance verification, and more. You can learn more about our services and rate by scheduling a consultation with us. We'll be happy to fill in the gaps in your staff's schedules or help on a more consistent basis.