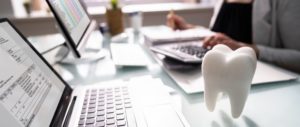 With all the technology available in dentistry, you may find it difficult to choose a device to acquire for your practice. While some practices benefit from having digital impressions, others are better served with a cone beam CT scanner. Regardless of whatever technology you decide to use for clinical purposes, you need to make sure your dental billing and scheduling software is up-to-date. Why? Check out these three reasons!
More Efficient Appointments
When it comes to efficiency, dental technology has come a long way. For example, digital impressions can be sent almost instantly, allowing the lab to start working right away on the restoration or appliance. Also, digital X-rays are "developed" within seconds without a dark room. As a result, patients spend less time in the chair.
Along the same lines, old-school paper filing or an outdated computer program can slow down the appointment. Staying on the cutting edge of scheduling and billing software allow your patients to get in, get care, and get back to normal activities as quickly as possible.
More Information and Accessibility
Unfortunately, even with the best technology, the possibility of human error is always there. However, compared to older software, newer ones make it simple to find the information you need with just a few clicks on the screen. You can schedule appointments, look at treatment plans, and access their financial information within minutes or even seconds. Consequently, your patients can know how much they owe and start to understand their payment options.
Higher Patient Satisfaction
Perhaps most importantly, embracing technology can make your patients' experience much more enjoyable. Clinically, no one really likes getting putty impressions, which are pressed against their upper and lower teeth. In fact, some gag—needless to say, those several minutes can feel like an eternity to your patient, and they may be counting down the seconds until they can leave your office.
The same principle can be applied to your front desk staff. If your patients have to wait for older software to load, they may switch to a more modern practice. In contrast, if your team works with updated programs, the patient can seamlessly flow through their appointment. As a result, they can leave your practice on a positive note and look forward to returning for future visits.
Although adjusting to new software, or any new technology for that matter, can be slightly challenging at first, it often improves the practice in the long run. Instead of holding onto familiar, older software, consider upgrading so that your team and office can run more smoothly and, most importantly, provide a better experience for your patients every day.
About Dental Support Specialties
Dental Support Specialties has remained at the forefront of billing and scheduling software since 2008. In fact, our team members have exposure to all kinds of software, meaning that we can work within your program to take incoming calls and actually book appointments for you. If you would like to learn more about our team or our services, you can reach out to us on our Contact Us page.