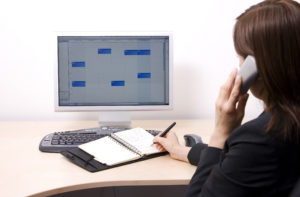 When you picked your dental office management software, you probably spent countless hours talking to sales teams, using trial software, and crunching the numbers, so you know the software you chose is the best one for your office. Then, your team spent weeks or months learning this software. When you decide to seek out extra help with your patient scheduling, guess what? The scheduling service uses a different software, and they expect your team to convert to this system. It's more than frustrating. It's a waste of time and money. Lucky for you, there's a better option – Dental Support Specialties. We're not your typical dental support and scheduling service provider. One of the unique factors that sets us apart is that we train our team to use your software – not the other way around. Even better, our team members are trained to use the majority of dental management systems, so they may not even need additional training to get started offering support.

No Need for Additional IT Training for Your Team
We hire dentistry professionals, and they are highly trained and knowledgeable. That means they will utilize your dental management software, and your team doesn't need to worry about changing to a different office management system. You don't have to worry about paying for the hours of training and software transition. For the majority of dental office management software, we already have professionals who are trained, but if we don't have trained team members, we'll take care of all the additional training on our end.
Our Team of Dental Professionals is HIPAA Compliant
HIPAA compliance is another concern dentists encounter when working with a team for scheduling, chart auditing, insurance, billing, and the other services we provide. It's important to us that your patients' information is protected, so every member of our team has completed HIPAA compliance training. They also maintain their compliance certifications, so you know your patients' personal information is safe with us.
Let the Dental Support Specialties Team Help
Ready to get started with Dental Support Specialties? Call our team to schedule a consultation, so we can talk to you about your unique needs and how we can help. One of the things our dental offices love about us is that we are completely flexible. You only receive the services you want. Just need us to answer the phones after hours? Done. Want after hours answering and billing help? You got it. Need a partner to help with scheduling, billing, insurance claims, phones, and more? We have you covered. Whatever support you need, our team can create a plan to meet your needs.