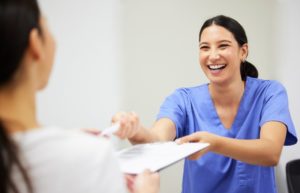 Finding a dental practice that accepts dental insurance is an attractive convenience for many patients. Being able to use their insurance simplifies their life and keeps their out-of-pocket costs down, but it can complicate your end significantly. Insurance verification is a necessary step if you want to get paid on time without frustrating your patients. But how can you make this step easier for you and your team? Check out these three tips!
Tip #1: Start Before the Appointment
To someone who is unfamiliar with the verification process, it may make sense to wait until the patient arrives for their appointment to begin. However, connecting with the insurance company and confirming coverage can take a long time. In fact, it can consume hours! By the time you learn that the patient has a co-pay, they could have already left, making it necessary to call them directly or mail an invoice to them. As a result, it can be much more difficult to collect payment than if you take care of verification beforehand.
Tip #2: Collect the Patient's Information When They Schedule
Whether they call the practice or go online to book their appointment, you need to get your patient's insurance information, which will allow you to get a head start on verifying it before the visit actually occurs. That way, when they come in, you already know what, if any, co-pay is due as well as other basic fees they may owe for treatment.
Tip #3: Outsource Insurance Verification
Some tasks can only be done in the office in person. The front desk team can welcome and check in patients. They can schedule follow-up visits, check patients out, and answer financial and other administrative questions. One task that doesn't require being physically in the office is insurance verification, which can easily be carried out remotely. When you outsource this task, you free up your in-office team to focus on patients.
Not only does outsourcing to a responsible company reduce your administrative team's workload, but it also makes for a better atmosphere for everyone in the office. Instead of feeling frustrated about being on hold for hours with insurance companies, your front desk team can help create a friendly, low-stress environment. You can put your mind at ease and know that the support services company will take care of your patients' information just as carefully as your own team would, allowing everyone to have a calmer day in the office.
When you follow these tips, the insurance verification process can help your practice run more smoothly, ensure that payments are made on time, and keep both patients and employees happy.
About Dental Support Specialties
Dental Support Specialties has provided dental practices with administrative support for more than 15 years. Insurance verification is just one of the many services we offer, including call answering, chart auditing, billing, and accounts receivable recovery. If you are interested in learning more about our services, you can contact us and set up a consultation. We will be happy to discuss how we can help your practice thrive.