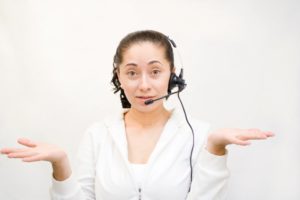 At some point in life, nearly everyone has experienced being misjudged. Others may have placed an inaccurate label on you or tried to put you inside a box that clearly doesn't fit. We know the feeling.
At first glance, it may be easy to quickly judge Dental Support Specialties (DSS) as just another call center, but the truth is that we're completely different! Although a call center employee answers the phone, and so do we, the similarities basically end there. We are proud to be unique from many other dental answering service companies in the following ways.
DSS Can Integrate with Your Software
At most call centers, they answer incoming calls and simply take messages for the practice to return later. They have no access to your patients' information and can't change any of your records. Although that may seem like a good thing, it complicates what a call center can do for you.
Unlike call centers, DSS is HIPAA compliant, which means we can work with your patients' records, if necessary. This allows us to be much more helpful than just taking down a patient's name, number, and message.
DSS Can Make Appointments in Your Schedule
One of the main reasons patients call is to set or reschedule an appointment. However, typical call centers cannot actually book the time on your schedule. They just pass the message along to your in-office team, who may or may not succeed in closing the deal. By the time your staff member reaches out to the patient, they may have moved on to another practice.
Rather than complicate your own teams' workload, DSS works directly with your schedule, meaning you get real-time updates and can keep your schedule full and accurate.
DSS Team Members Are Highly Trained in Customer Service
Not everyone is cut out for customer service. Those who work at a call center may be more skilled at it than anyone off the street, but usually the job includes very little professional training. In contrast, our dental administrative team undergoes advanced training in helping patients schedule appointments, answering basic questions, and doing other meaningful tasks by professionals with decades in the business. This ensures that each patient receives the best possible service.
DSS Has Established Protocols
Just like the field of dentistry has best practices and protocols, DSS has learned over the years what keeps calls to a practice running smoothly. Our experts not only rely on their extensive backgrounds but also on the expansive training we provide, ensuring that every phone call is productive and satisfying for your patient.
In this case, don't be deceived and think that Dental Support Specialties is a call center. We may answer the phones, but we do it in such a strikingly different way that we really stand out from the rest.
About Dental Support Specialties
At Dental Support Specialties, we offer more services than just answering phone calls. We can also verify dental insurance benefits, handle billing, and perform special projects like chart auditing. We have been open for business for about 15 years, and we have clients throughout the country. If you are interested in learning more about our dental answering service, don't hesitate to contact our team.