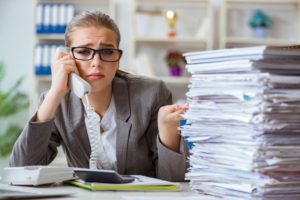 Every job comes with some amount of drudgery—those tasks that make the workday inch by. For the front desk staff at your dental practice, chances are their most dreaded tasks have to do with insurance. It's a necessary evil in the field, but insurance can quickly wear you down unless you have some support.
In this post, you'll learn about the various ways insurance can make everyone in your practice grumpy or even turn your practice into a toxic environment for patients and employees alike. Plus, you'll learn how Dental Support Specialties can turn it around for you!
Insurance Keeps You on the Phone for Hours
Whether verifying insurance information or following up on claims, insurance companies can demand a lot of your front desk team's time. Unfortunately, while they should be welcoming and checking in patients, they can try to multi-task phone calls with insurance companies, which can be tiring and frustrating, but it is difficult to keep smiling after being on hold for so long.
Dental Support Specialties can take this time-consuming, stress-inducing task off your front desk team's plate. Instead, they should have ample time to check patients in, collect insurance information, and complete other necessary jobs around the office.
Insurance Paperwork Has to Be Immaculate
Before your administrative team can process insurance claims, they must ensure that every detail they've received from the patient is 100 percent correct. Otherwise, they can spend double that amount of time trying to track down the patient and get the right information. Needless to say, patients aren't happy when they have to deal with financial issues, especially surprise fees after they've already undergone treatment.
The team at Dental Support Specialties makes sure every t is properly crossed and every i is dotted so that claims are processed as smoothly as possible. We focus on these details so your team can focus on other things—like taking care of your patients in the office!
Insurance Can Be Confusing
Although many working in dental administration are generally familiar with insurance, it can come with a steep learning curve. Even those who have years of experience can struggle because of new policies or caveats that weren't there before.
At Dental Support Specialties, insurance verification is such a large part of our work that we keep up with any changes. We are intimately familiar with insurance companies and how to maximize your patients' plan, helping them save and helping you look good.
In the end, insurance doesn't have to cause you and your team stress. Let Dental Support Specialties take over this Herculean task so that your practice can be a calm, easygoing place to be for everyone.
About Dental Support Specialties
At Dental Support Specialties, our team works with dental insurance companies every day. We know how to deal with their loopholes and long waits on the phone, freeing up your team to work with your patients in office. Since opening our doors in 2008, we've offered remote administrative services to practices around the country, easing the burden on in-office staff and helping practice create better patient experiences. If you are interested in learning more about our services, please reach out to us today!