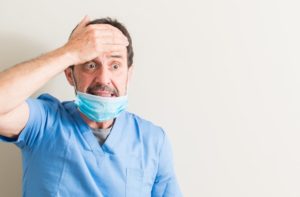 You're going about your normal day when suddenly you receive notice that you're being sued—you have legal problems now. Have you been completely honest and truthful in your dental billing practices? Will they help you in your legal situation?
As a small business owner, you need to be aware of what is and isn't legal, especially in your billing paperwork. Keep reading to learn about 3 illegal practices and how they can harm your business.
How Illegal Practices Can Hurt Your Business
Doing anything illegal is never good for a business's reputation, but it can be especially damaging for a dental practice. Patients put a lot of trust in you and your team, both clinically and ethically. In addition to costing you a lot of money to resolve, legal trouble could cause patients to lose confidence in your practice and choose another dental team. After all, once trust is broken, it takes a long time to recover.
Illegal Practice #1: Changing the Seat Date
Sometimes, in an effort to help a patient save on out-of-pocket costs, a team member will edit the seat date on the claim to make sure insurance pays more. In spite of good intentions, this practice is illegal. Regardless of whether the patient has met the annual maximum, when their insurance benefits reset, or what time of year it is, your team needs to put the correct seat date so that the records are completely accurate.
Illegal Practice #2: Incorrect or Missing Information in Clinical Notes
Most of the time, this error is unintentional, but it can have legal consequences as well as create roadblocks in the billing process. Your clinical notes need to have all the following necessary information so that insurance claims can be successfully processed:
Patient's name, date of birth, and contact information
Medical history, including amount and dosages of medications the patient is currently taking
Any unscheduled treatment or appointments that the patient has missed or declined
Current and past treatment information
Basically, the clinical notes need to contain as many details as possible with time stamps. This information may seem superfluous, but it could save your practice from legal issues in the future.
Illegal Practice #3: Not Documenting and Billing All Treatment
Clearly, an important part of fighting against legal action is documenting everything that happens in the practice. But what if you want to treat a family member or close family friend at a discount or for no fee at all? You still need to keep billing records for these rare situations. If your practice is ever audited, these filed bills can help any discrepancies in the numbers.
As the leader of your team, you need to make sure that everyone knows what's expected of them, knows the rules, and does their part to keep the practice out of trouble. If you avoid these errors, you can have more peace of mind when it comes to legal issues.
About Dental Support Specialties
Dental Support Specialties has been assisting dental practices throughout the United States for nearly 15 years. Familiar with federal and most state laws, our team can help you remain compliant with all the rules and regulations regarding billing. Interested in learning more about our services? Contact us online, and we'll be happy to talk about how we can make you and your team more efficient and accurate.