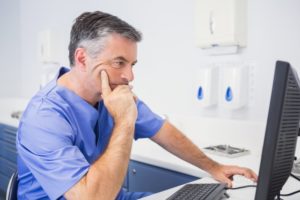 As a business owner, you like to see your finances in the green. Having a profitable revenue cycle gives you the freedom to acquire new technology, hire more team members, or simply build a financial cushion and breathe.
But your revenue cycles hinges on your dental billing process, especially insurance verification. If you don't have an established, efficient process in place, you and your team can feel the pinch. In this post, you'll understand more about the revenue cycle and how to make your billing process run more smoothly.
What Is a Dental Revenue Cycle?
The dental revenue cycle includes all actions that contribute to identifying, collecting, and managing payment revenue. Scheduling appointments all the way through to accounting for payments all play a role in the cycle. The better and faster that this cycle is performed, the healthier the practice will be in terms of profit and financial means.
To make your dental revenue cycle more profitable, and therefore your business more financially successful, all the steps in the cycle, including the billing process, need to be carried out as efficiently as possible.
Why Does Your Billing Process Need to Be Streamlined?
There are many, many ways in which the billing process can either help or hurt your practice's bottom line. When insurance claims are set aside or only handled during free time, it creates a backlog and deficit in your practice's income. In addition, asking patients to pay for services not covered by insurance well after the appointment leaves a negative impression and could drive them away from your practice in the future. It also increases the stress on your team members throughout their day, which can affect customer service and patient satisfaction.
One of the most important steps in the billing process is verifying insurance benefits prior to the appointment. This enables your team to collect whatever amount is due from the patient during the visit and facilitates actually filing the claim. Without a streamlined billing process, you will not get paid on time, directly impacting your practice's financial health.
Why Should You Outsource Your Billing?
Unfortunately, dental billing is not a task your team can complete when it's convenient. It's a nearly constant concern that takes up their attention and time. To prevent billing from interfering with in-person customer service, you can outsource the billing tasks to Dental Support Specialties, allowing your team to take excellent care of your patients.
In the end, perfecting your billing process can enable you to have a more profitable revenue cycle. When you turn to Dental Support Specialties, you can take the massive task of insurance verification off your team's plate so that your patients and your revenue don't suffer the consequences. That way, you can see your finances stay comfortably in the green.
About Dental Support Specialties
At Dental Support Specialties, our team is basically an extension of yours. We can answer incoming phone calls, verify insurance benefits, and perform other administrative tasks remotely. As a result, your front desk team can center their attention on your patients who are in the office. To learn more about our services, you can reach Dental Support Specialties online on our Contact Us page here.