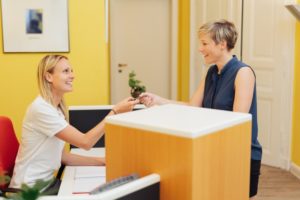 If you want to increase your dental practice's revenue, one of the first things that comes to mind is to get more new patients. Your existing patients are undoubtedly valuable, but new patients bring in additional funds and needs to fulfill. Although online marketing can be effective in attracting new patients, there are simpler, more creative ways to get your practice's name out there! Keep reading to learn four tactics you should consider.
Give Your Patients the Best Experience
Your first priority is caring for your patients. Your whole team should be devoted to this cause and do what they can to provide the smoothest, most pleasant experience possible. A good experience at the dentist's office can keep new patients coming for years and years! But if your front desk staff is distracted by phone calls and talking with insurance companies, they cannot give your patients the kind of warm welcome patients deserve. Taking some of this burden off their shoulders and outsourcing this tedious work frees them up to be friendly and focused, starting your patients' experience on the right foot.
Encourage Your Patients to Leave Online Reviews
After word-of-mouth recommendations, online reviews are the next best thing for getting new patients. Those searching for a new dentist want to hear from those who have visited your office before, and having satisfied patients leave reviews can give these prospective patients insight about what to expect from your office.
Offer Rewards for Patients Who Refer Friends or Family
Who doesn't like getting a prize of some kind? Some people don't need a lot of encouragement, but offering a reward of some kind can motivate your existing patients to refer people they know to you. Whether you hold a raffle with a large prize, give out gift cards, or have another system to reward referrals, your existing patient base can do the searching and reaching out for you!
Be Involved in Your Community
Your work of happy smiles shouldn't be limited by the four walls of your practice. Think about reaching outside your office and trying to make a positive difference in your area. You could support local organizations like a kids' sports team, a cause-driven 5K, charities, food banks, or toy drives. It will give you a warm feeling in your heart but also create a more meaningful connection with the surrounding community and put your name in front of many prospective patients. And the best part is that you can get your patients—new or existing—involved as well! People can come to see your practice as more than just a dental office but an integral part of the community, a business they want to support.
In the end, these creative tactics usually don't require a ton of effort or cost, but they can leave a positive impression of your practice on the people you want to bring in as new patients. Try them out and see how they can help your practice succeed!
About Dental Support Specialties
At Dental Support Specialties, we administrative services remotely. Although we are not there in person, we help practices by taking over tasks that take away from the in-office patient experience, such as dental insurance billing and answering phone calls. As a result, our clients are better able to create a welcoming, comfortable environment for every patient. If you would like to talk to us about how we can improve your practice's efficiency, just reach out to us online here.