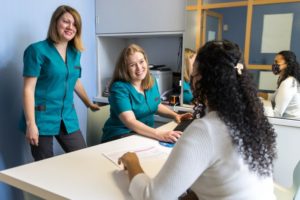 Are you looking for ways to improve your practice? Would you like to increase profitability and make your patients happier? Of course, your clinical performance and chairside manners matter, but are there things your administrative team could be doing to help your practice thrive? Keep reading to learn four tips for dental practice growth that can lead to success.
Use Innovative Technology to Stay Efficient
Keeping up-to-date with your continuing education is obviously essential, but are you updating your practice with new innovations as well? Although new instruments or devices can be beneficial too, if your practice is stuck using old software and technology for administrative tasks, your practice may not function as smoothly or as efficiently as it otherwise could. You should be updating your systems so that your practice can work like a well-oiled machine.
Create and Send Out Patient Surveys
If you want to know which areas you and your team could improve in, why not get your information straight from the source? Your patient base can provide valuable feedback and point to potential growth opportunities. Write a simple, user-friendly survey and send it to your patients, and then evaluate the results. You may need to offer an incentive for responding to the survey to increase the number you get back, but having a clear idea of what you're doing well and what you can do better is a great start.
Focus on Relationships
In the time you've worked as a dentist, you probably have found out that dentistry is about more than just treating teeth. It's about building trust, caring for patients, and forming relationships with them over time. Your front desk team starts these relationships out with a kind greeting, friendly service, and a positive attitude. However, if they are preoccupied with phone calls, insurance claims, and other tasks, it can make a bad first impression. Make sure your administrative team can deliver the same level of care you expect of your clinical team.
Work with Dental Support Specialties
To help with your efforts in these other areas, Dental Support Specialties provides remote administrative support for dental practices. While your team members check in patients in the office, our team can work behind the scenes on insurance claims and other special projects. We are fluent and knowledgeable with many software suites, meaning you won't need to train us on how to use your system. If we answer phone calls for your practice, we gain remote access and can set appointments, so your schedule stays full.
Ultimately, keeping patients happy and your practice running as efficiently as possible is a team effort, and sometimes you may need extra help. At Dental Support Specialties, we can help your administrative team balance their workload so that they are able to create a better environment and experience for your patients.
About Dental Support Specialties
For nearly 15 years, Dental Support Specialties has offered remote services like answering phone calls, chart auditing, and filing insurance claims to dental practices. Our friendly professionals are highly trained and can work with any software, old or new. We take pride in representing our clients well so that patients feel comfortable and satisfied after hanging up the phone. If you are interested in working with us, you can contact us online here.