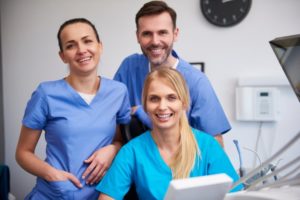 There goes another one—an employee has just handed you their two weeks' notice, citing burnout as the reason for leaving. You try to run a successful practice, but you're struggling with dental staff turnover. You're not alone; many employers throughout the country are seeing more turnover in what is being called the Great Resignation.
How can you hold onto your dental staff? How can you entice them to stay and help your business succeed? Read on to learn three simple things you can do!
Be Flexible and Give Control to Your Team
If COVID-19 has lasting effects, one will certainly be the need for employers to be more flexible to prevent burnout. Although your front desk team needs to work at the office, perhaps there are some tasks they could accomplish at home or you could put together a system that allows some flexibility in another way. Your employees will feel grateful for the gesture, more satisfaction with their job, and more loyalty to the practice as a result.
As the leader of the business, you shouldn't give your employees complete autonomy—after all, they must get certain information or do specific tasks for the practice to function—but if you tend to micromanage them, they can feel disconnected from their role and the team. After giving them instructions on the necessary stuff, give them some freedom to find their own way to accomplish the task. This ownership gives them purpose as well as a sense of belonging, which can help fight burnout.
Listen to Your Employees and Make Necessary Changes
Every now and then, maybe every six months or even every quarter, you should meet with each employee to not only review their performance but also talk one-on-one about how they feel about their work. How is the workload? Are they overwhelmed? Give them a safe space to voice any concerns or challenges they are facing in their job.
Once you become aware of potential sources of stress or frustration, do what you can to address them. For example, although insurance billing is a constant battle, perhaps you could outsource these tasks to lighten the overbearing load on your in-office staff.
Again, the effort you make shows that you care about your employees, and when they feel that, it motivates them to want to work hard for you.
Create a Kind, Healthy Work Environment
No one wants to work in a negative workplace, and having a poor work culture could lead to burnout and losing valuable employees. Ways to cultivate a work atmosphere where your employees want to be may include the following:
Recognizing and appreciating one another
Being kind and constructive when communicating problems
Leading by example by having a positive attitude
In the end, to a certain extent burnout and turnover can be prevented. When you take the time to do these things for your employees, you can encourage them to want to stay on your staff for the long term and find satisfaction in helping your practice thrive.
About Dental Support Specialties
Since 2008, the mission at Dental Support Specialties has been to help dental practices succeed through administrative services. We offer remote assistance with dental insurance verification, answering phone calls, chart auditing, and more. If you are interested in learning more about our services, you may contact us and have us perform a complimentary support analysis, where we identify potential areas where your practice could use additional help.