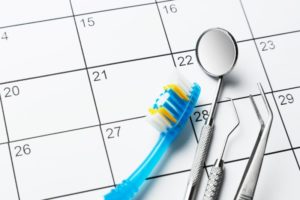 As you say goodbye to a patient, you turn to see who's next and find that you have a sizeable gap in the schedule. Lulls every now and then aren't detrimental to your business, but if your schedule doesn't stay full on a consistent basis, you're missing opportunities to bring in revenue. That is harmful to your business! How can you make sure you fill your dental schedule regularly with productive work? Read these four tips from Dental Support Specialties to find out.
Check for Previously Diagnosed But Unscheduled Treatment
Perhaps you have a patient who is coming in for a cleaning, but they've expressed interest in teeth whitening before. Or perhaps they've talked about replacing a missing tooth but haven't actually completed treatment for it. Checking your patient's histories can eye-opening and reveal easy ways you can fill up gaps in the schedule with productive appointments.
Branch Out to Family Members
Once you've zeroed in on a patient who needs re-care, treatment, follow-up, the next step is to expand your search to their family members. There could be a parent, child, or spouse who also needs an appointment. It's an easy to identify inactive patients and get them back on track and in the schedule.
Schedule Future Appointments Before Patients Leave
While you do want your practice to run efficiently, getting patients in and out as quickly as possible could leave holes in your schedule in the future. Instead of rushing your patients out the door, make sure that their next hygiene appointment, follow-up visit, or treatment is scheduled before they exit the office. The odds that they'll forget about it increase drastically once they leave, and they can easily fall through the cracks or become inactive patients.
Take It Day by Day
Tackling and checking your entire patient list can feel overwhelming—because it is! A simpler way to find patients who haven't completed treatment or are overdue is to search specifically patients who are on already on your schedule for the day. It's a good starting point, and following the previous three tips just might garner some more appointments on the schedule. If you finish with today's patients, you can move on to the next day's scheduled patients.
If you're thinking that these tips are too much for your regular staff to take on, don't worry! Dental Support Specialties can perform special projects just like this one for you. Basically, we can do the research, contact the patients, and actually set appointments, so you come to work with a full day ahead.
About Dental Support Specialties
Dental Support Specialties has been family owned and operated since it began in 2008. Offering remote administrative services, like chart auditing, we can complete special projects while freeing up your in-office staff to focus on caring for patients in person. To learn more about our services or to take advantage of our team's expertise, visit our Contact Us page here.