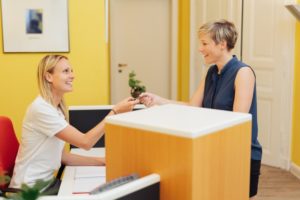 If you've working in the dentistry business for any amount of time, you know how valuable forming relationships with your patients can be. Getting new patients is obviously a good thing, but retaining loyal, satisfied patients ensures your future success.
When patients are in the chair, you're pretty good about getting to know them, making them feel at home, and building essential trust. But did you know that the process of forming relationships with patients can begin beforehand? At Dental Support Specialties, we offer remote services like chart auditing, but we're all about patient relationships! Here are three ways we can get the ball rolling for you.
Friendly, Successful Phone Service
Even though many people these days do use online resources to contact dental practices and schedule appointments, calling is still perhaps the most common communication method. You have a chance to make a personal connection before they come to your office! Then again, is there anything more impersonal than using an answering machine? If you leave incoming callers to interact with a machine, don't be surprised to find that they hang up and try another dental practice.
Having a flesh-and-blood person answer the phone elevates the answering service a bit more over a machine, but if they aren't able to actually schedule appointments, what's the point? The patient still has to leave a message and wait to be called back, which is a huge inconvenience for them. With Dental Support Specialties, your calling patients can hang up not only having had a good conversation with a friendly person but also accomplishing what they called to do—schedule an appointment!
Freedom for Your In-Office Team
Although we feel that our team members can basically become extensions of your own staff over the phone, we know that for some people nothing beats face-to-face interaction. Seeing your front desk staff's smiling face and talking during check-in can leave a priceless impression on your patients. But what kind of impression can they make if your team members are swamped with other work?
Insurance verification and other tasks require quite a bit of time and attention—time and attention that they could devote to your patients in the office. By delegating these tasks to Dental Support Specialties, you allow your team to create a comfortable, welcoming environment for your patients, opening the door to a strong relationship.
Catching Patients Who Have Fallen Through the Cracks
Over time, every practice accumulates patients who have fallen behind in their hygiene appointments, failed to follow through with treatment, or simply moved away. Keeping up with chart auditing allows you to know who has become an inactive patient and who should be contacted to confirm patient information and/or invite them to return and complete treatment. This gesture shows the inactive patient that you've noticed their absence and that you care. Dental Support Specialties can do all this legwork on your behalf and make you and your team look amazing in their eyes!
Making connections doesn't have to wait until the patient is already in the office. When you partner with Dental Support Specialties, it can start the moment they pick up the phone. As a result, you can retain your patients for years and years to come!
About Dental Support Specialties
Dental Support Specialties began in 2008 with experienced administrative professionals who decided to offer remote services. Staffed with dozens of front desk staffers, we know how to answer calls with a friendly, helpful attitude and can work with your scheduling management software. If you are interested in learning more about the services we can provide, you can contact us online.