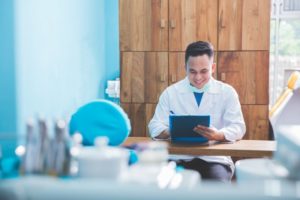 You don't get it—you aren't bringing in as much revenue as you think you should be. According to the numbers, you have tons of patients, but your schedule doesn't stay consistently full. Have you checked how many of your patients are active?
The process of determining active and inactive patients, called chart auditing, does require a bit of time and effort, but doing it is essential for your practice's productivity. Keep reading to learn why knowing how many patients are active is important and how Dental Support Specialties can help you focus your outreach efforts on those who need it most.
Why Chart Auditing Is Important
Even if you have patients on record, it doesn't mean they are actively visiting you. Your management software allows you to keep track of who comes in for appointments regularly and who hasn't visited in a while. Knowing these numbers through chart auditing provides a precise picture of who needs to be contacted and reminded to return for care. It also can help you weed out patients who have moved, so that your attendance statistics can be more accurate.
As a result of finding your inactive patients in chart auditing, you can specifically target those who haven't completed treatment or who need to resume regular visits, bringing you more revenue.
What Chart Auditing Entails
In the past, chart auditing was a time-consuming, tedious task that involved looking at each patient's file to determine who was active and who wasn't. However, these days, most dental software comes with the ability to conduct this research without being physically present. It can still require quite a bit of work and time, but it is more efficient than ever before!
How Dental Support Specialties Can Help
Your front desk team may already be busy working with in-office patients, answering phone calls, and doing other administrative tasks. Chart auditing is something that our team at Dental Support Specialties can take over to free your staff up. We are familiar with basically all dental software, so you don't have to worry about training us, and we can give you all the statistics you need to improve productivity.
In the end, chart auditing is a task that needs to be completed every now and then so you keep as many patients active as possible. This will help you keep your schedule full and your revenue stream consistent.
About Dental Support Specialties
For more than a decade, Dental Support Specialties has offered remote administrative support to dental practices. In addition to chart auditing and other special projects, we can also provide answering services, insurance verification, and other services to keep your practice running smoothly behind the scenes. If you would like to talk to us about how we can help your practice, contact us online here.