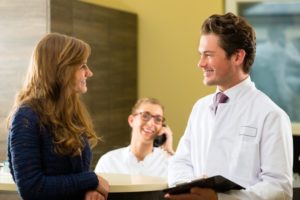 You're facing a big decision for your practice—should you stay in-network with dental insurance or become a fee-for-service practice? Before you choose either option, you need to understand the pros and cons of making a huge change to your billing system. Read on to learn about how fee-for-service could help or hurt your practice, as opposed to dental insurance billing.
Pros of Fee-for-Service Billing
There's something to be said for simplifying life, and insurance is undoubtedly complicated. Here are the advantages to being out-of-network with dental insurance.
You Get Paid Immediately
When you buy something online or at the store, you pay for it right away. When you switch to a fee-for-service billing system, it works much the same way. You get the money you've earned at the same appointment you perform the procedure, which means you don't have to wait for insurance to reluctantly send over the amount you're due.
You Can Focus on Quality Care
Without the restraints of dental insurance looming over your head and dictating the services your patient can get, you can focus on what they need and want to accomplish. Rather than going through the motions with what is covered by insurance, you can pay more attention to delivering outstanding quality of care.
You Can Build Stronger Relationships with Patients
Unfortunately, handling dental insurance claims and verifying information takes a lot of time for your staff. When you choose to be fee-for-service, everyone on your team can devote more time to getting to know patients, answering questions, and making connections that keep patients coming back for years.
Cons of Fee-for-Service Billing
Fee-for-service is far from perfect and comes with some disadvantages you should be aware of.
You May Lose Patients
For some, regardless of the individualized attention you give, it all comes down the numbers. If you drop their insurance, some patients will walk away and find another dentist who's in-network. This can be risky, especially if your practice already struggles to retain patients!
You Still Need to Know Insurance
Just because you're not in-network anymore, it doesn't mean that you don't have to understand insurance benefits anymore. In fact, most fee-for-service practices end up having to explain benefits in greater detail to patients, and they still file reimbursement claims on patients' behalf.
Ultimately, each practice is unique, and what's right for another office may or may not be right for yours. Weigh your options, consider all the benefits and risks, and then decide how you want to move forward. Regardless of which one you pick, you can feel confident that it will help you succeed.
About Dental Support Specialties
As experts in administrative tasks, Dental Support Specialties offers services that can be completed remotely. These services include answering phone calls, scheduling appointments, filing insurance claims, verifying insurance information, and chart auditing. Whether you're a fee-for-service practice or you're in-network, we can help you file claims so that you and your patients are happy. To learn more about our team and what we can do for your practice, contact us online!