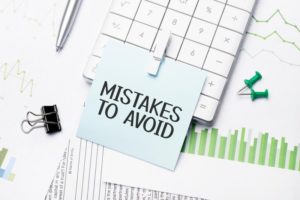 When you graduated dental school, you thought you knew enough to have a successful practice. Then, it hits you like a slap to the face—you are a business owner with little financial training! Most dentists go into practice without having much or any knowledge of the accounting side of the business, so there's no wonder that many dentists make the same major financial mistakes. Keep reading to learn what these common mistakes are and how to correct them.
#1 Not Reviewing Your Practices Finances Regularly
Although accounting might not be one of your strengths, it needs to become one. As a small business owner, you're responsible for making sure everything is going smoothly. Don't simply assume that your finances will sort themselves out. You need to be checking on a regular basis that your expenses are being covered, your insurance collection is on schedule, and other financial issues are being taken care of.
To fix this financial mistake, you should be running reports frequently to stay informed. Getting insurance companies to pay their end of the bills can be a challenge. However, if you let your aging report go unchecked and unpaid, you can see the balance in your practice's bank account go down pretty quickly. Staying updated with this information can give you a clearer idea of how your practice is actually faring and can help you do something sooner about any unpaid claims or billing issues.
#2 Handling All Financial Tasks Alone
You studied to become a dentist and work with patients. Chances are the financial side of the business was not on your mind. As a result, you may struggle to even have interest in this area. Dental Support Specialties can provide the administrative services you need to get financial work done without the hassle and headache for you. We can contact insurance companies and verify benefits, and we can contact patients about remaining unpaid bills. That way you can focus on serving patients!
#3 Using Outdated Technology
When you think of dental technology, you probably think of digital X-rays or intraoral cameras, but your scheduling and management software is just as important to keep current. Older systems can be inefficient and slow down your team. New and improved software can help your scheduling, billing, and administrative team access the information they need quickly, which means your patients can be served more effectively. Whether you've been in practice for 30 years or 30 days, be sure you keep up with advancements in modern technology.
If you are making any of these mistakes in your own practice, don't fret! You can still take action to correct them. Whether you approach it on your own or you team up with Dental Support Specialties, it's important to tackle these mistakes so that you and your team can enjoy peace of mind and, of course, more revenue!
About Dental Support Specialties
Dental Support Specialties is proud to serve dental practices throughout the country. We offer administrative support and make the financial side of the business easy. We are familiar with basically all software suites and can quickly adapt to your office processes. In fact, there should be very little or no training required! If you think Dental Support Specialties could be beneficial for your practice, give us a call today!