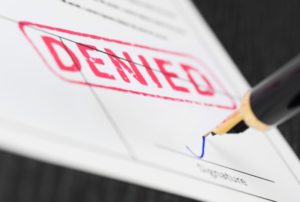 Denied. No one wants to receive this message, especially when it comes to insurance claims. If you get one tiny detail wrong in a claim, the company sends it back unpaid, and your practice is left having to do rework. However, knowing some of the most common reasons insurance companies deny claims can help your team work more efficiently and get you paid in a more timely manner. Here are several mistakes to watch out for before your team sends claims in!
Outdated Form
Every now and then, dental insurance companies update their claims paperwork and reject the old forms to get everyone using the new ones. It's frustrating to be constantly checking, but it may be worth taking a few minutes to call and confirm that you have the right version to avoid having to redo the claim later.
Inaccurate Dental Codes
While dental coding is easily one of the easiest mistakes to make, it is important to properly file the correct code so that the diagnosis and services rendered are accurately documented and billed. But did you know that the dental codes change every year? Keeping up with dental codes can be challenging, particularly at the beginning of the year, but getting them right the first time can save your team a lot of time and trouble.
Incorrect Information
Obviously, if you don't send all the necessary information or it's not all correct, the claim will be denied. Everyone is human and can make little mistakes like misspelling a patient's name or inputting an inaccurate policy number. These mistakes can occur more frequently if your team is trying to balance several tasks at once, such as answering phone calls, talking to patients in the office, as well as filing claims. If your team isn't double checking their work before submitting the claim, they could have rework to do later, taking up their valuable time and attention.
Not Doing Insurance Verification
Even if two patients have policies with the same insurance company, their plans and benefits may differ. That's why your team should be verifying the patient's information and coverage before the appointment even begins so that everyone is on the same page in terms of out-of-pocket and covered costs.
Although there certainly are other hiccups that can lead to denied claims, practically all of them can be resolved by working with Dental Support Specialties. Allow our team to handle the complex insurance claims so that yours can focus on serving your patients and meeting their needs in the office. As a result, you can get more claims approved the first time, and your patients can know what to expect for the cost when they visit your office.
About Dental Support Specialties
Dental Support Specialties consists of dental professionals with many years of experience who offer remote support for practices throughout the country. Insurance verification and filing claims are some of our most popular services because the process can be so complex and confusing. With our team on your side, you're sure to be paid by the insurance companies as quickly as possible. To learn more about our company, contact us online or by calling 330-639-1333.