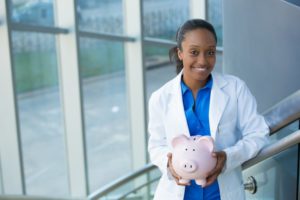 After an appointment, you see your front desk personnel is struggling to keep up with the all the responsibilities they balance. While they are on the phone with insurance companies, they try to check patients in and out and collect co-pays. Some days, you may wish you could drop dental insurance entirely! As much as you might dislike it, dental insurance is necessary for your practice to succeed. Keep reading to learn why dental insurance verification is important and what your two options are for dealing with this challenge.
Why Insurance Verification Matters
More than 50 percent of the American public has dental insurance benefits, and finding an in-network provider is a common criteria for a strong majority of these patients. In fact, anywhere between 60 and 90 percent of the average patient base for a general practice relies on dental insurance.
Considering all these statistics, it is clear that working with insurance is practically a necessity to gain new patients and keep them coming for the long term. However, dental insurance verification is a time-consuming task that can overwhelm your front desk team.
Hiring an Insurance Coordinator
Believe it or not, dealing with insurance in and of itself is a full-time job. In fact, many dental practices even have a dedicated insurance coordinator, who handles not only filing insurance claims, but also following up with unpaid claims and more. Each claim issue typically takes an average of 20 minutes on the phone to resolve with insurance companies. An insurance coordinator's workday is also full with verifying insurance benefits and uploading information and documentation required for claims.
This option may seem like a good solution at first glance, but it involves hiring another staff member and incurring more cost. Adding a full-time salary to the payroll is a big decision and could impair your practice's profit margin.
Working with Dental Support Specialties
Instead of paying a full-time salary, you could work with Dental Support Specialties. From insurance verification to claim follow-up calls, we take care of all the background insurance work so it doesn't interfere with your practice's workflow. Rather, your team can keep their focus where it belongs—on your patients!
In the end, you'll have to deal with insurance one way or another. However, when you turn to Dental Support Specialties, insurance issues can be out of sight and, therefore, out of mind! This can allow your front desk staff to be more welcoming and helpful for patients in the office, which helps them want to come back again and again.
About Dental Support Specialties
For more than a decade, Dental Support Specialties has provided dental practices throughout the country with remote administrative support. In addition to other common front desk responsibilities, we can manage dental insurance verification as well as chart auditing and other projects. If you would like to learn more about how we could help your practice run more smoothly behind the scenes, contact Dental Support Specialties online here.