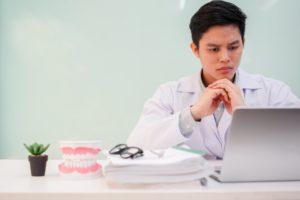 As a small business owner and a dental expert, you have enough problems on your hands. In addition to the daily problem-solving you do in treating your patients, you are concerned about your office functioning smoothly. In fact, that's why you're considering getting a dental answering service to help with scheduling support. You know it is supposed to help your office team focus on serving patient in-person, but you wonder whether it will just give you more problems to deal with. Not when you partner with Dental Support Specialties! Here are three logistical or technical problems you won't have with our team by your side.
IT Installation and Issues
Chances are you don't have an IT expert on your practice's staff, which means you either have one of your administrators has to learn IT duties, or you hire an IT consultant to take care of these issues. In either situation, you're paying for time spent doing tasks that aren't directly making you money. But with Dental Support Specialties, you don't have worry about any IT work on your end. We simply gain remote access to your front desk computer system! We take care of that part, so you and your team can focus on treating patients.
Software Training
When hiring someone new, there usually is a learning curve as they adjust to a new software system. It takes time and patience and can slow down your team's rhythm as the new employee becomes familiar with the software. However, our team at Dental Support Specialties doesn't require any training at all! We are already skilled and trained in the software you use, so we can start working right away within your program. This means you experience fewer interruptions and can work even more smoothly than before.
HIPAA Compliance Issues
Bringing another entity in to work with your patients' records can initially seem like a logistical and legal nightmare. You must protect their personal and payment information according to HIPAA guidelines. Fortunately, the Dental Support Specialties team is already very aware and completely compliant with the HIPAA regulations. We will respect your patients' information and make sure it stays safe from anyone who is not authorized to see it.
Let Dental Support Specialties take a burden off you and your team's shoulders. We make your life easier right away and help your practice to work as efficiently as possible, allowing you to spend more time and energy with patients and bringing in more revenue.
About Dental Support Specialties
Dental Support Specialties has been a remote administrative service company for over ten years now. We serve primarily general practices, but we also are capable of working with oral surgery and periodontal practices. In addition to handling patient paperwork, we can manage incoming phone calls, schedule appointments, verify insurance, and do much more! To talk to someone about how Dental Support Specialties can assist your practice, contact us online.