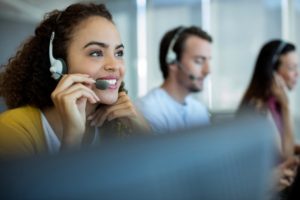 You hire a dental answering service to take calls that come in while your staff members are out on vacation. However, you worry about how well they will represent your practice. What if the patient has questions? What if your practice is a specialty office? Can the service company still help you?
Before you decide to hire a service company like Dental Support Specialties, you want to know they can handle the challenges that come up. Our team is uniquely qualified to serve three types of dental practices: general, periodontal, and oral surgery. Here are the challenges we often face with these types of practices and how we address them.
Challenges with General Dental Practices
At first glance, a general practice seems less complex than a specialty office. However, remember that general dentists tend to offer a wider variety of services. This means that the administrative staff needs to have at least some rudimentary knowledge about many types of procedures. For instance, they need to know how long teeth whitening typically takes or how to fit in an emergency root canal procedure into the schedule.
At Dental Support Specialties, our team members have years of dentistry experience and are familiar with the cosmetic, restorative, and preventive services that most general practices offer. As a result, we also know how to process insurance claims, if applicable, for these procedures and can answer some basic questions, ensuring that your patients hang up the phone feeling like their needs have been met.
Challenges with Periodontal and Oral Surgery Practices
Specialty practices, specifically periodontal and surgical, bring some unique administrative challenges, such as the following:
Handling referrals and potentially coordinating with general practices
Answering basic procedure or implant-related questions from patients
Understanding how to file insurance claims for certain procedures and implants
Providing basic instructions for appointments or care after procedures
Because of our team's experience and training, we can handle these types of issues in phone calls to these specialty practices. For more complicated or practice-specific questions or concerns, we would contact the practice directly or schedule a consultation for the patient so they are properly served.
Whether you have a general, periodontal, or oral surgery practice, Dental Support Specialties can meet your administrative needs by taking patient calls, scheduling appointments, filing insurance claims, and more. We make every effort to represent your practice in the best possible way and make your practice run smoothly. To learn more, get in touch with Dental Support Specialties today!
About Dental Support Specialties
For more than a decade, Dental Support Specialties has offered remote services for dental practices across the United States. From answering incoming phone calls to dealing with dental insurance verification, we thrive on helping practices like yours function more efficiently. If you are interested in learning more about our services, you can contact Dental Support Services by clicking here.