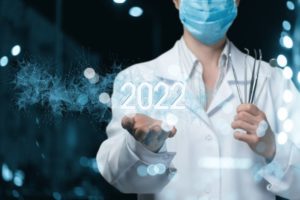 At the end of the year, many people reflect on their progress and make goals to improve the following year. As a small business owner, you may do something similar. How could your dental practice do better in 2022?
Getting and keeping patients is a common struggle in dentistry, which is why you probably invest money into marketing for your practice, maintaining a great website, and providing the best care you can. At first glance, that may seem like everything you need to succeed. So why would you need a dental scheduling company? Read on to learn ways Dental Support Specialties can help you achieve goals for your practice.
Fewer Lost Appointments
In theory, after a potential patient has seen your website or your print marketing, they give your practice a call. However, if they call at peak times of the day or while your front desk staff are otherwise busy, the callers are sent to an answering machine. Most people nowadays hang up right away when they hear the automated voicemail prompt, which means you're not getting that patient's business. Even if you use a dental answering service that uses a real person, most only take messages, which can leave you in the same boat.
More Patients on the Schedule
By covering the phone lines with Dental Support Specialties, you ensure that every call is answered and every caller gets on the schedule. As a result, your staff spends less time being idle and more time being productive with patients, which means more revenue and less overhead. In other words, keeping your schedule filled is critical to making your business profitable.
Better Customer Service
You have one chance to make a powerful first impression on a potential patient. Instead of working with a friendly professional on the phone, they have to leave a message and hang up disappointed. Right off the bat you haven't met their needs or made them feel important to you. It's a lost opportunity to gain the patient's business and loyalty. On the other hand, when callers talk to caring professionals, even during the busy times, they feel as though your office is always there for them when they need you, you're accessible, and they can rely on you for their smile needs.
Who knows what this coming year will hold, but when you partner with Dental Support Specialties, you have peace of mind knowing that your callers will be taken care of. Instead of letting chances to bring in more revenue fall by the wayside, take advantage of every opportunity and make your marketing money count in 2022!
About Dental Support Specialties
Dental Support Specialties has been helping practices reach their goals for more than 10 years. Instead of taking messages, we actually work within your practice's software and schedule appointments for you. This leads to more productivity and efficiency for your business. If you would like to learn how Dental Support Specialties can serve your dental practice, you can contact us online here.