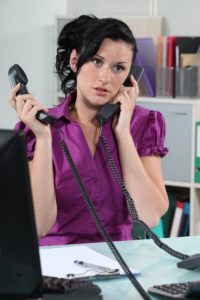 Did you know that about 75 percent of the American public has dental insurance benefits? Many patients actively seek out practices that are in-network or at least willing to file claims for them to save on their out-of-pocket costs. Like it or not, dental insurance billing is often a necessary evil to keep patients happy, but it adds a heavy burden for your front desk team. Here are just some of the challenges your team can deal with and how Dental Support Specialties can make the process go much more smoothly.
Spending Hours on the Phone
You hired your team to do more than be on the phone on hold, yet that's exactly what they spend a lot of time doing. Insurance companies can make the process of verifying benefits a hassle, and oftentimes the filing process involves following up again later with insurance companies, which equates to more time on the phone.
Have you ever tried to talk to someone who is on the phone with someone else? You can feel like you don't have their full attention, like you're inconveniencing them. This is how your patients can feel if they are trying to work with your front desk team on the phone. If you want your team completely focused on patients in the practice, you need someone else to handle insurance billing.
Having Incorrect Insurance Information
Perhaps your patient changed insurance companies and forgot. Maybe they switched plans, and their information isn't completely accurate anymore. Chasing down patients to get the right information takes time, patience, and attention to detail, all of which distracts your team from serving patients that are in the office.
Dental Support Specialties can take over this tedious task, allowing your front desk team to create a positive, welcoming environment for your patients.
Needing to Contact Patients for Collections
There are certain surprises that your patients don't want, and finding out that they owe more out-of-pocket than they originally thought is definitely an unpleasant one. Making these calls can be uncomfortable, and it can require a high level of customer service so that your patient doesn't hang up angry. Dental Support Specialties has decades of experience handling these situations so your team doesn't have to.
In the end, the process of insurance billing doesn't have to be painful for you and your team. Let Dental Support Specialties reduce stress in your office by managing the tedious steps necessary to get you paid on time.
About Dental Support Specialties
Starting in 2008, Dental Support Specialties has been assisting dental practices around the country with administrative tasks and issues like dental billing. From filing claims to following up and tackling aging reports, we can get you the money you're owed sooner. In addition to insurance billing, we also help with answering services, chart auditing, and more. To learn more about how Dental Support Specialties can help your practice succeed, contact us online here.