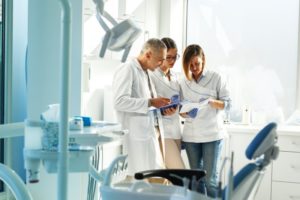 There's no doubt—we live in the information age. You have more computing power in your phone now than some computers just a few decades ago, and software systems have become much more advanced. As a small business owner, you need to harness the information available to you in order to bring in more revenue. But how? The answer is simple—data tracking and chart auditing. In this post, you'll learn more about using the data you have to benefit your dental practice and why you should make these tasks a priority in 2022.
Why Should You Track Data?
At the end of every month, it's crucial to know how many patients have cancelled, have not shown up for their appointments, and are overdue for a visit. By tracking this information, you can watch for trends, possibly improve customer service or other issues keeping patients from coming in, decide whether you should hire more staff, and know how you can bring in more revenue from your existing patient base.
The good news is that your software system likely already stores tons of data for you. You just need to know how to view and use it to your advantage. Although tracking the data may not cost you anything extra, auditing your charts does require time and effort on your part or from your staff to process and understand this information properly.
What Data Should You Pay Attention to?
Any worthwhile dental software these days keeps track of all kinds of data, and it can be overwhelming unless you focus in on the right information. As previously mentioned, some important data points include cancellations, no-shows, and inactive patients. In addition, you can know which patients have received a treatment plan but have not yet scheduled the completion of their dental work. In all these cases, there are opportunities to reach out directly to these patients and encourage them to come in.
What Is Chart Auditing?
In a nutshell, chart auditing consists of searching through the data in your software for inactive patients and then reactivating them. Depending on the program you use, finding these patients may not be terribly complicated, but it can be time consuming. Then, the process of contacting these patients and scheduling appointments can be even more so.
What Can Dental Support Specialties Do to Make Data Tracking Easier?
As administrative experts, our team at Dental Support Specialties can do the tedious legwork of chart auditing. We can sift through your records, identify those patients who may need encouragement to come back in for treatment, and contact them for you. As a result, your team has one less colossal task on their plate and can dedicate their time and attention on the patients there in your practice.
Staying on top of the data you have and analyzing the information doesn't have to be an arduous task. Let Dental Support Specialties take care of the research and outreach while your continue to do what you do best—take care of your patients!
About Dental Support Specialties
For more than a decade, Dental Support Specialties has changed the way dental practices accomplish administrative work. By offering services like chart auditing and insurance verification remotely, we enable in-office team members to focus on delivering outstanding customer service. If you would like to learn more about our services, you can contact us online or by calling our headquarters at 330-639-1333.