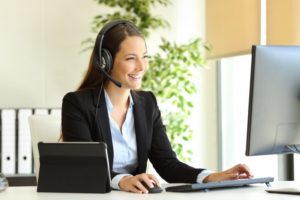 Insurance—it's a necessary evil in the dentistry profession. If your practice accepts and works with dental insurance, you likely already know the struggles involved. But what other choice do you have? You could actually outsource dental insurance verification to Dental Support Specialties! Here are four reasons why you should consider taking this arduous task off your front desk team's plate and giving it to us.
To Avoid the Cost of Hiring Another Employee
Bringing another front office worker onboard is costly. Not only do you have to pay their salary, but you need to pay for benefits, vacation and sick leave, and employment taxes. Plus, there's the potential expense of training the new employee in your office's software and protocol. Contrast that with paying Dental Support Specialties, which is much more cost effective than adding a new member to your staff.
To Give Your Staff Time to Handle Other Needs
Despite what some people say, it's not possible to do multiple things at once and do them well. Your front desk staff has enough to worry about with taking phone calls, scheduling appointments, checking patients in and out, and more. The last thing they need to add to the mix is a long, frustrating call to an insurance company to discuss payment. When you work with Dental Support Specialties, your front desk team doesn't have to worry about this task and can focus on providing excellent, friendly service for your patients.
To Have an Additional Resource for Insurance Questions
There's no such thing as a quick call to an insurance company. If you or a patient has an insurance question, it likely means you'll be waiting for 30+ minutes for a representative to get the answer. On the other hand, our team at Dental Support Specialties is familiar with ins and outs of insurance and is much more accessible. We can help you answer patients' questions about insurance without having to go through the trouble of contacting the insurance companies themselves.
To Get Paid More Quickly
Regardless of whether insurance pays on time or pays as much as possible, your in-office staff still get a paycheck. As a result, some in-office teams find it difficult to muster the motivation to tackle outstanding insurance claims. At Dental Support Specialties, we are especially motivated to get insurance claims paid in full and on time because that's one of our primary purposes. If you're running behind, you can bet that your stack of unpaid insurance claims will diminish when you hire us, and you'll see more revenue coming in.
Although outsourcing insurance may not be a good option for every dental practice, it makes sense in many cases. Could your practice be more efficient, productive, and successful by working with Dental Support Specialties? Contact us and find out!
About Dental Support Specialties
Dental Support Specialties is a service company that specifically caters to the administrative needs of dental practices. We can file and follow up on insurance verification, answer incoming calls and schedule appointments, and perform chart auditing projects to help practices be more profitable. If you would like to learn more about our services and expertise, you can contact us through our website or by calling 330-639-1333.