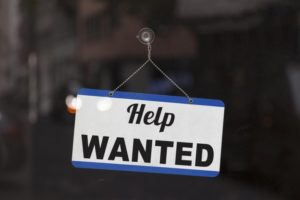 "Good help is hard to find." You've heard the old saying before, but it has never been more applicable than in the last several months. As the economy picks back up, and businesses have reopened, it seems that every company is hiring and desperate for more workers. Although some blame generous unemployment benefits, there may be other factors at play. In the dental field in particular, some practices are struggling to find employees to handle the background administrative work. Fortunately, we have the solution! Here are two major problems with dental staffing and how Dental Support Specialties can meet your needs.
Less Company Loyalty
In the past, it was not uncommon for an employee to remain with a company for 20 or more years. In recent years, however, employees seem to move on to another company much more frequently. According to the Bureau of Labor Statistics, the median number of years a salaried employee stays with a company is about 4.1 years. This time frame decreases when you only consider workers ages 25 to 34. As a result, your dental practice could be dealing with high turnover, which is both frustrating and expensive.
At Dental Support Specialties, we are always staffed with highly experienced professionals. We have a team of more than twenty personnel, meaning that there's always someone available to answer your incoming calls or process insurance claims. With us, you don't need to worry about the cost of training someone new because our administrative staff already knows how to work within your software and scheduling systems.
Remote Work
During the worst part of the pandemic, everyone was working at home as much as possible. In many industries, companies found that employees could get work done remotely, and employees found that they liked having the flexibility of remote work. However, setting up that infrastructure on a permanent basis requires time and resources, which you may not have as a small business. Plus, you need to have someone in the office to greet and check in patients.
Dental Support Specialties has been providing remote services for more than a decade. As a result, we know how to handle certain tasks like answering phone calls, scheduling appointments, filing and following up on insurance claims, and chart auditing from a distance. That way, your in-office staff can primarily focus on the patients and creating a comfortable atmosphere.
In the end, Dental Support Specialties may not be able to resolve all your staffing problems, but we can certainly help ease the burden of the administrative side of your practice. You can trust us through thick and thin to cover your practice's needs, and you don't have to stress about finding high quality staff—we've already got them!
About Dental Support Specialties
Dental Support Specialties was founded in 2008 when Mary Beth Bajornas had to leave work at a dental practice to tend to her daughter's needs. Then, she realized that she could offer remote administrative support to practices as a business. Ever since, we've grown to provide support around the country. If you are interested in learning how we could fulfill your staffing needs, you can contact us through our website.