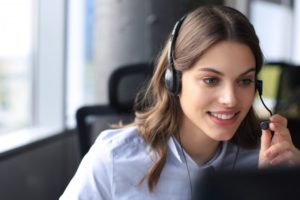 When you decided to become a dentist and own a practice, perhaps you weren't as familiar with the business side. Your focus has likely been on technical expertise. However, you lead a team of hygienists, assistants, and administrative professionals—you're a boss! Along with being the one in charge comes a host of staffing dilemmas. You will have to deal with some issues along the way, but Dental Support Specialties can be your perfect employee! Here are some of the problems you may face and how we can help.
Sick or Vacation Days
The individuals who work for you aren't machines. Whether they're out with the flu or going on a cruise, your office can be left without someone to answer calls and schedule appointments. At Dental Support Specialties, our team of 12 support specialists has you covered. We don't just take messages; we can actually schedule appointments in your software. With us, you'll never have to worry about patient calls falling through the cracks.
Long, Tedious Training
Bringing another staff member on board can require a lot of time especially upfront. After all, they need to learn your practice's protocols, software system, and other processes. Until they learn the ins and outs of your practice, it can slow down your practice's efficiency. However, the team members at Dental Support Specialties have years of experience working with many practices. As a result, we learn fast! In fact, getting us up to speed doesn't take long at all.
Bringing Down Office Morale
Everyone has an off day here and there, but you need your front desk personnel as happy and welcoming as possible to greet patients. If they are bogged down with answering the phone or talking to insurance companies for hours, their customer service can suffer. Dental Support Specialties can handle the more frustrating tasks like dental insurance verification, freeing up your in-office staff to devote their time and attention to your patients. Our friendly team can also answer phone calls and schedule appointments so that you can focus on creating a relaxing environment.
No Accountability
Sometimes you can tell when someone isn't doing their job. Perhaps they're looking at their phone and texting or perhaps they are visiting a lot of websites that have nothing to do with work. It can be challenging to know whether they are really getting tasks done. When you work with Dental Support Specialties, you don't have to wonder. We provide a list of everything we accomplish every day, making us 100 percent accountable for our time.
Ultimately, our team can provide the solution to your staffing problems. Let us take the responsibility of managing your front desk staff off your shoulders. We can be your perfect employee, helping to set your practice up for success.
About Dental Support Specialties
Dental Support Specialties got its start in 2008 and has been providing practices with remote administrative support ever since. Our staff has about 400 years of collective experience in dentistry and gets along with both practice staff and patients alike. If you would like to talk to us about how we can be your perfect employee, you can reach out to use via our website or by calling 330-639-1333.