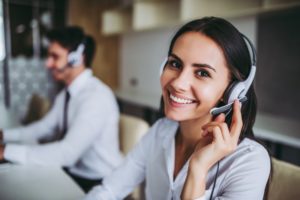 With the summer season approaching, many of your in-office staff members are planning their vacations. Of course, you want your team to enjoy their time off, but who will take the practice's incoming calls? Without someone proficient to answer these calls, your business can suffer. You could hire a call center, or you could hire Dental Support Specialties. Read on to learn how our dental answer service is drastically different and how we can help keep your practice on track for success.
Established Scheduling Protocols
Does your team have a streamlined workflow? Working with a call center means that you either have to do things their way or spend the time and resources onboarding them. As seasoned dentistry professionals, we can easily adapt to your practice's scheduling protocols with very little training.
Integration
At Dental Support Specialties, we truly become an extension of your team. We treat your patients just like they would—with respect and consideration. Even though our team works remotely, we seamlessly blend in with yours by working with your practice's software system. That way, your in-office team has all the right information where it's supposed to be. As a result, your team can work as efficiently as possible and your patients' high-quality experience from the very first phone call feels consistent.
Customer Scripts
When you call customer service or another answering service, does it sound like they are using a script? It can make you feel as if you're just another number. At Dental Support Specialties, our team puts patients at ease immediately while still getting all the information needed. We are professional yet down-to-earth, building trust and a rapport with your callers that can develop into long-term loyalty.
Booking Appointments
With other dental answer service companies, when your staff returns to the office, they have a pile of additional work that needs to be done. For instance, patients who left messages need to be contacted to set appointments. This takes time away from other duties your team needs to perform. Dental Support Specialties can actually improve your practice's efficiency by scheduling visits for you, reducing the load your in-office team has to bear later on.
In the end, time off for your office team shouldn't have to cause problems or setbacks for your practice. This summer, instead of trusting a call center to take messages and add to your staff's workload, consider working with Dental Support Specialties. We can help you continue to deliver outstanding service through the summer and beyond!
About Dental Support Specialties
For more than a decade, Dental Support Specialties has served dental practices throughout the country with remote administrative services. Unlike call centers, we not only answer calls but we can schedule appointments within your software suite. In addition, we offer chart auditing, dental insurance verification, and other useful billing services. If you would like to learn more about how we are different from call centers, you can contact us through our website or by calling 330-639-1333.