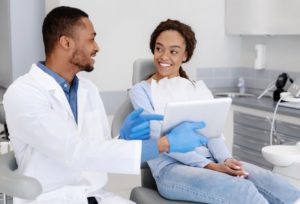 When you think about the big money-makers in dentistry, you probably think of dental implants, porcelain veneers, and smile makeovers. When you've made a plan with a patient for one of these big-ticket services, you follow up with them to make sure they actually go through with it. But do you do the same with those who only come in every six months? Although hygiene care isn't particularly flashy, it often plays an essential role in a general practice's success. In this post, you'll learn why having a full hygiene calendar is so important and how Dental Support Specialties can help you accomplish it by following up for hygiene.
Importance of a Full Hygiene Calendar
For most general dentistry practices, about 30 to 33 percent of production relies on hygiene appointments. In other words, if you experience a slow week or month in hygiene work, you're sure to feel a financial pinch for practice's revenue. Keep in mind also that while these routine patients have a significant collective impact on your practice's bottom line, they may also be beneficial individually. After all, they may occasionally require additional dental work like a dental crown after a root canal or other more lucrative services.
Keeping Your Staff Busy
You've hired a team to handle hygiene visits: a dental assistant to take X-rays, a dental hygienist to perform dental cleanings, and front desk staff to get and file insurance information. If there's a lag in these appointments, you're paying all of these workers for unproductive time. Every now and then, it's okay to have a gap or two in the schedule. However, most of the time, you want to have a full calendar to make sure you're bringing in more than you're paying out.
Why You Should Follow Up for Hygiene Appointments
When you have Dental Support Specialties follow up with patients who are due for their hygiene appointments, you can remind them that these basic services are essential and are usually covered (often entirely) by dental insurance, which means that they may not have to pay anything out-of-pocket. This friendly call also shows just how much you appreciate their patronage and builds trust and loyalty. In addition, you should keep in mind that if they haven't visited your office in a long time, they may have other issues that need to be addressed besides a simple cleaning and a checkup.
In the end, every patient you bring in and treat is valuable. It's worth following up with those who aren't up-to-date with their hygiene appointments to keep them on track, let them know that you care, and help your practice flourish.
About Dental Support Specialties
Since 2008, Dental Support Specialties has offered remote support for dental practices across the country. From answering incoming calls, scheduling appointments, filing and verifying dental insurance, and more, we provide administrative expertise through our helpful services, including filling your hygiene calendar. Are you ready to take full advantage of your practice's potential revenue? Contact Dental Support Specialties to learn how we can help you succeed!