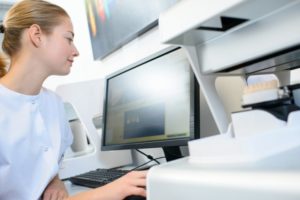 From the floor plan to the décor, you've carefully chosen everything for your dental office. After all, your practice is your business! When it comes to your scheduling software, you likely poured over your options and tried to pick one that made the most sense for your office. Whether it is more user friendly, more convenient for records and treatment plans, or more conducive for billing purposes, you have your reasons for the one you chose.
But now your team needs some help with dental scheduling support from a dental answering service. Does that mean all your hard work was for nothing? When that help comes from Dental Support Specialties, you can keep using your software! We work in your system and make the process simple. In this post, you'll learn the benefits of bringing additional help into your practice with our team.
No IT or Training Needed
Perhaps you're concerned that bringing us onboard will entail having to install a new software system to your computers. This simply is not the case! You and your team don't have to install anything or be trained in a different software just because Dental Support Specialties works for you. We work within whatever software you already have, which means you and your staff can carry on as normal.
Familiarity with Your Software
Not only is training your own staff not necessary when you turn to Dental Support Specialties, but our team does not require any extra training when using your software system. We are already familiar with it! Our team stays up-to-date with all the industry's scheduling software programs, which means onboarding administrative assistance has never been easier!
HIPAA Compliance
The last thing you want to do when bringing in help for your practice is put your patients' information at risk. Dental Support Specialties is already well aware with HIPAA requirements. In fact, we are fully HIPAA compliant, so you don't have to worry about your patients' information being used improperly. You can trust that your practice and patients are in capable, responsible hands.
Whether you're using Dental Support Specialties temporarily or on a regular basis, you shouldn't have to change how your office works to accommodate us. That's how we see it, which is why we've made it easy for our team to fit in with yours. When you work with us, you can carry on as usual without disruption and without adding to your workload.
About Dental Support Specialties
Dental Support Specialties began in 2008 with Mary Beth Bajornas. Since then, we've expanded to a team of more than 20 experienced dental professionals. Each brings a unique background and expertise with many kinds of scheduling software, but all are dedicated to serving dental practices and helping them succeed. Do you need help with answering services and scheduling appointments? You can contact Dental Support Specialties through our website.