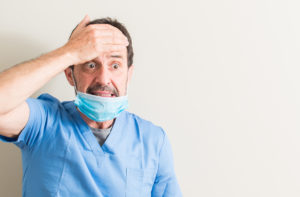 Did you know that about 57 percent of the American population has dental insurance? Compared to medical insurance, that number may not seem as impressive, but that's roughly half of your potential patients who have insurance and want to use their benefits! In other words, if you want to bring in more patients, you need to be flexible and work with the dental insurance plans.
Like it or not, finding a practice that works with their dental insurance is an important attraction for your patient base. But you know all too well just how troublesome insurance can be. Since it's a necessary evil, you have two choices for your practice: try to deal with the stress of dental insurance verification on your own or let Dental Support Specialties handle it.
On Your Own
When you file insurance claims, you typically end up forgoing about 30 percent of the dentist's fees to meet the PPO rates. This means that while being insurance-friendly may attract more patients, the only way to be profitable is to be efficient with a large volume of patients. That equates to a lot of paperwork for your team! With the obligation to perform other duties around the office as well, your team can feel overwhelmed.
In fact, you may consider hiring an insurance coordinator specifically to handle the process. However, this workload can quickly get out of hand. After all, this one staff member needs to access your patients' insurance company to verify coverage and benefits and enter all fee schedules (which can be different from plan to plan) into the computer within a short period of time.
Before starting treatment, many patients want to know how much the procedure will cost, meaning you have a tight deadline to put together an accurate treatment plan. The keyword here is accurate.
Some research shows that more practices lose patients because of miscommunication about dental insurances and billing than because of clinical dental care. That's how critical insurance is for your bottom line! As a result, it is maybe unwise to take on this responsibility alone.
With Dental Support Specialties
When you partner with Dental Support Specialties, you don't have to handle the headaches that come with dental insurance. Our team of 12 support specialists can take over the responsibilities of verifying coverage, filing claims, and following up with companies so that you and your in-office team can focus on providing outstanding care to patients.
In addition, when you calculate the cost of hiring someone and the trouble of working with insurance in your office, the cost of working with Dental Support Specialties quickly proves worth the investment.
Ultimately, while you should definitely work with dental insurance, your team doesn't have to suffer with a heavy workload. Trust Dental Support Specialties to deal with this part of your billing so that you can enjoy all the benefits of having insurance patients without the stress.
About Dental Support Specialties
For more than a decade, Dental Support Specialties has offered remote administrative support for dental practices around the country. We are experienced with how insurance companies operate and can gladly take this responsibility off your team's plate. Would you like to learn more about our services or rates? You can learn more about Dental Support Specialties on our website or by giving us a call at 330-236-0570.