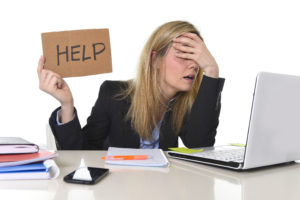 During your busiest time of the day in your practice, you hear the phone ringing over and over. You hear bustling team members and equipment whirring from serving patients. At first this seems like a wonderful thing—it means you're busy and have lots of patients coming in! But, judging from the look on your front desk receptionist's face, it may be too much for your current team size to manage on their own in the long term.
You know your staff need extra hands on deck to handle the workload, but onboarding a new team member requires so much time and effort. There are many steps to bringing someone up to speed so that they actually become an asset and not a liability. What are those extra steps? Do you have to go through special steps when you get help with dental answering service from Dental Support Specialties? Read on to find out!
Training
Starting a new job always includes a transition period. Whether it's learning the office protocols and processes or simply learning where to find certain supplies. Training can take up your team's valuable time that they could spend focusing on completing special projects, catching up on insurance claims, and getting your practice paid on time.
Dental Support Specialties is ready to start immediately because we hire only experienced dental professionals who have been working in cutting-edge dentistry for years. As a result, we can easily and quickly adapt to your practice's processes without skipping a beat.
Software and Hardware
When you bring someone onto your team, you need to provide the equipment they'll use every day. In many cases, this means purchasing another computer and licensing for appointment and administrative software you use. Not only does additional hardware and software cost you more, but it may also require some time for the new person to learn how to use the specific software you utilize in the practice.
But at Dental Support Specialties, we provide our team with the computers and software suites necessary to work within your system. You don't have to purchase anything, and our knowledgeable team has expertise in most dental software, which means we can start immediately.
Information Request
You work hard to earn the trust of your patients, and you've built a reputation with your community. Whoever joins your team is going to be handling sensitive patient information and must be trustworthy to work in dental insurance verification. Every support specialist at Dental Support Specialties knows HIPAA regulations and is compliant. With us, your patient's information, and their trust in your practice, is completely safe.
When you hire Dental Support Specialties, you don't have to go through all the usual special steps you would with a new team member. We're ready to work right away. That way, your team can refocus their time and attention on what matters most—the patients.
About Dental Support Specialties
Dental Support Specialties has offered remote administrative support for dental practices long before working remotely became necessary. We are familiar with many software suites and can become an extension of your team, blending seamlessly in and quickly alleviating stress and burden from your in-office team. If you have questions about our support specialists, you can learn more by contacting us on our website.