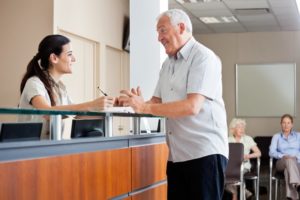 You wanted to help people. You love working with your hands. When you dreamed about being a dentist or dental specialist, you probably didn't envision having to deal with staffing issues. Whether you're down a front team member, or there'll be a stretch needing to be covered while they're out on vacation or sick leave, you need help with scheduling appointments and other administrative tasks. That's where Dental Support Specialties can step in and lend a helping hand as your dental answering service. But your practice isn't a run-of-the-mill dental practice! Read on to learn what roles we can assume and what kinds of practices we serve.
Rolls We Fulfill
As experienced professionals in dentistry, we are able to manage the job responsibilities of a receptionist, insurance coordinator, hygiene coordinator, or treatment coordinator. This means that in addition to answering incoming phone calls, we can schedule appointments in your software, file and verify insurance claims, and help you get paid on time.
General Practices
At first glance, working with a general practice may seem simpler than with a specialist. After all, many appointments are routine hygiene visits and checkups. However, general dentistry includes a wide range of services, which varies from practice to practice. While some practices perform root canals, children's dentistry, and Invisalign treatment, others refer out. Most of them offer porcelain veneers, dentures and other restorative work, and much more. As a result, our team is well versed in at least the basics of most dental services available to help each practice individually with scheduling and other administrative tasks.
Periodontal Practices
From gum disease therapy to dental implant placement, periodontics comes with its own set of specialized procedures and processes. Fortunately, Dental Support Specialties has the background and expertise to work with periodontal practices and their unique challenges. Whether your patient needs a consultation or a gum graft, our team can help with dental scheduling support for your specialty office.
Oral Surgery Practices
Overall, oral surgery involves the most complex services and procedures that dentistry has to offer. Not only can the oral work be complicated but also the insurance claims, so it helps to have a knowledgeable administrator on your side, who can handle the paperwork deftly. In addition, it is important to talk to someone who is polite, friendly, and welcoming while making the appointment, because the patient may already feel nervous about the procedure they will undergo. At Dental Support Specialties, we become a seamless extension of your in-office team, helping the patient feel comfortable from the very first phone call.
With us, you can get the help your practice requires, whether it's general, periodontics, or oral surgery office. We are happy to offer our expertise, along with yours, to give your patients the best possible experience.
About Dental Support Specialties
Since 2008, Dental Support Specialties has given dental practices across the country remote support. Currently, we are able to serve general, periodontal, and oral surgery practices. We can take over certain administrative tasks, such as answering phone calls and scheduling patients, so that your in-office team can focus on delivering outstanding customer services to patients who visit in-person. If you would like to learn more about our services, you contact us here.