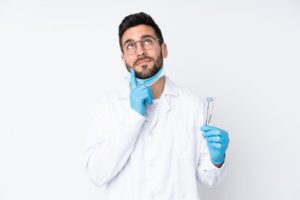 Between helping in-office patients, answering their insurance questions, scheduling follow-up appointments, and making sure the practice is running smoothly, your front desk team has a lot to manage. Unfortunately, they may not always be available to answering incoming phone calls.
With the busy holiday season and a new year approaching, you're seriously considering hiring a dental answering service. But how do you know which one will best meet your needs? While you research your options, keep these four questions in mind, and you'll quickly find that Dental Support Specialties is the right answer!
Do you have dentistry expertise?
At first glance, simply answering phone calls and scheduling appointments may not seem like a specialized task. However, dental scheduling differs from other fields. An implant placement procedure and a hygiene and checkup appointment require different time slots. Not only does the person answering the phone need to understand dentistry terms and processes, but they need to be familiar enough with dentistry and dental insurance to answer simple questions that patients may have.
As our name implies, Dental Support Specialties only serves dental practices. As a result, you know that your patients will talk to someone who is knowledgeable and who will proudly represent your practice.
Can you schedule appointments in our software?
Although talking with a real, live person is preferrable to leaving a message with an automated machine, your callers actually want to accomplish something with their call. They want to hang up having scheduled a concrete appointment, not wait to hear back from your office when it's convenient for them. Instead of leaving a message, your potential patient could try calling the next practice on their search list, leading to lost opportunities for your practice to make money.
Dental Support Specialties can work within what software suite your practice uses. Unlike other dental answering services, we can schedule appointments in real time, keeping your schedule up-to-date and ensuring that your practice stays as productive as possible.
What training do we need to provide?
Bringing a new staff member onboard usually requires a training period. After all, they may not be familiar with your office's unique protocols and processes or the software. With Dental Support Specialties, you don't have to worry about training us. Many of our team members have years of experience adapting to various dental practices and can quickly learn to become an integral part of your support team.
Are you HIPAA compliant?
You've likely spent years building trust with your patients and a positive reputation in your community. When dealing with patient information, you must work with professionals who take this responsibility seriously and are not just familiar with HIPAA but also completely compliant, which we are here at Dental Support Specialties.
By asking the right questions, you can find a perfect match for your dental scheduling needs. Whether you just need assistance over the holiday season or consistent coverage into the new year, Dental Support Specialties can help make your practice more successful!
About Dental Support Specialties
Since 2008, Dental Support Specialties has served dental practices around the country with remote administrative services. In addition to answering phone calls and scheduling appointments, we also can handle chart auditing, dental insurance verification, and other billing issues and special projects. If you would like to learn more about Dental Support Specialties, you can contact us by clicking here.