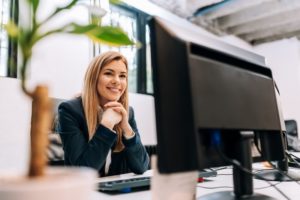 It's almost that time of year again—time to festively decorate the office, file final insurance claims, and receive your staff members' time-off requests. You want your team to enjoy time with their families, but you also need coverage for incoming phone calls and someone to schedule patient appointments while your team is unavailable.
With the holiday season fast approaching and everyone rushing to get their final dental visit in before insurance benefits reset in January, you may find yourself desperate for a dental answering service. Dental Support Specialties can supplement your staff's efforts and sub in when your front desk team is out sick or on vacation. But will getting us up to speed with your software just add to your already high pile of work and stress? Absolutely not! Here are some ways we make your business run smoother during the holiday rush.
No IT Setup Needed
Working with a separate company or bringing a new person onboard usually requires some additional IT setup. Especially if they are working offsite. After all, what are the chances that they already have the licenses to software you use in your practice? When you partner with Dental Support Specialties, you can bet on it! We provide our team with all the IT support they need, so your team doesn't need to waste time and energy taking care of logistics. In other words, we're ready to hit the ground running.
No Software Training Required
Although no software is perfect, you and your team know how to use what you've got like experts. You likely even have a smooth rhythm going, but introducing someone new to the mix can cause hiccups or slowdowns for your well-oiled machine. At Dental Support Specialties, we are familiar with basically all practice management software systems available, so we can easily fit in and keep your practice running just as smoothly as usual.
HIPAA Compliant
You and your team have worked hard to earn your patients' trust and build relationships with them. The last thing you want is the blemish of a HIPAA violation on your reputation. At Dental Support Specialties, we realize that we are representing your practice and team when we schedule appointments, and we take that responsibility seriously. You don't have to worry about maintaining privacy and confidentiality with your patients' information because we know the HIPAA requirements and stay in compliance with them.
Whether you need some backup on the phones during the holiday rush, or you want to give your team a nice, long break, Dental Support Specialties can take the burden of incoming calls off your shoulders. That way, you know your patients are still being served and your schedule is still filling up even if your in-office team can't always answer the phone.
About Dental Support Specialties
For nearly ten years, Dental Support Specialties has offered remote administrative support to dental practices across the country. In addition to answering phone calls, we can also schedule appointments, file insurance claims, and address billing concerns. If you would like to learn more about our services, especially before the holidays, contact Dental Support Specialties by visiting our website.