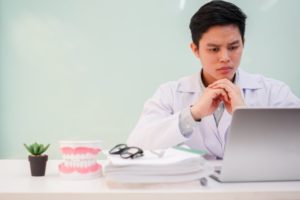 In most cases, when you buy a service or product, you simply pay for it, and that company gets the money right away. Dentistry doesn't work that way. While cost effective for your patients, most of the time, insurance can be a huge headache for your team members. Even worse, problems with dental insurance can keep you from getting paid money you're owed in a timely manner, hurting your practice's revenue.
But more patients are taking advantage of their dental insurance benefits, making it that much more important to streamline the insurance billing process for your practice. In this post, you'll learn more about the troubles of dental billing and how Dental Support Specialties can address them for you.
What Insurance Billing Involves
Although you own your practice, you may not be familiar with the nitty gritty of insurance billing. In fact, most dentists direct insurance-related questions to their staff members and for good reason. After all, you're a technical expert in dentistry, not insurance logistics. However, having a basic grasp of the intricate and tedious task of billing may help you understand what your team goes through every day.
Compared to most transactions, the process of getting paid through insurance is rather convoluted. At the time of service, your patient pays a deductible and their out-of-pocket costs, but then your team must then file a claim through the patient's insurance plan. This entails contacting the insurance company to verify the patient's information coverage, which can be confusingly phrased if you're new to the language of insurance. Often, these companies keep callers waiting on hold for up to hours at a time. All this time and effort spent to get paid for one patient! As a result, your staff can quickly become overwhelmed, and your bottom line can suffer.
Why You Should Consider Outsourcing
You want your front desk staff to welcome your patients into the office with a friendly smile and a caring demeanor. But when you're stressed, tired, or frustrated, it's hard to put on a happy face and talk with a positive attitude, right? Likewise, when your team members have to deal with dental billing issues, it can be difficult not to let these irritations impact their in-person customer service.
That's where Dental Support Specialties can step in and take care of this tedious responsibility, enabling your team to focus on giving your patients a more enjoyable experience in the practice. Outstanding customer service can turn a new patient into a loyal patient for years to come.
Everyone on your team has a role to play in the success of the practice. Waiting on hold with insurance isn't a smart use of time and energy, especially if you're wanting the same person to make a positive first impression. Let Dental Support Specialties handle insurance while your staff creates a welcoming environment for your patients.
About Dental Support Specialties
Founded in 2008, Dental Support Specialties provides help with administrative tasks, including insurance verification and billing support. Our experienced professionals understand the intricacies of filing claims and can get your practice paid on time so that you can make important business decisions. If you would like to work with Dental Support Specialties, you can contact us through our website.