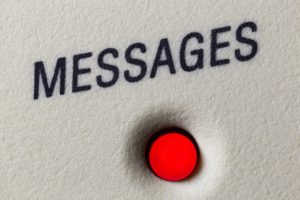 "Leave a message at the beep." How many times have you heard that and hung up right away? Probably too many to count, and you're far from alone. In fact, according to NPR and The New York Times, people, especially Millennials, are leaving fewer voice mail messages than ever before. If you use a dental answering service that only takes messages and doesn't schedule appointments, your practice could be losing chances to bring in new patients and significant money! Keep reading to learn how finding the right answering service can help your business grow.
Why People Aren't Always Better Than Machines
Maybe you utilize an answering service with a real person on the other end of the line. Talking to a flesh-and-blood human is an improvement, but if they can't actually put your patients on your schedule, the service might as well be a machine. Yes, the person answering the phone can say, "I'll let them know you called, and they'll get back to you as soon as possible." However, this leaves your patient with unfinished business, an open problem left unsolved. It also allows them to easily search for another dental office, change their mind, and go with another dentist instead of you.
In addition, when your front desk team returns to work, do you think they want to come back to a large pile of messages to address? Calling back patients takes time away from other work that needs to be done and delays getting appointments set, potentially impacting your practice's bottom line.
Why Scheduling Matters
Whether leaving a message with a machine or a person, patients who hang up without making an appointment are more likely to call another dental office than to wait patiently on a return phone call from your practice. As a result, you may lose patients by choosing to use a typical messaging service. Only Dental Support Specialties takes dental scheduling support to another level and becomes a valuable extension of your team.
How Dental Support Specialties Answers the Call
Clearly, it's important to have someone available for patients when they reach out to your practice, but it's not always possible to have someone in your office to answer the phone. Your team could be busy checking in a patient, processing insurance claims, on another line with a caller, or out for lunch. Perhaps your front desk person is out sick or on vacation—you still need someone to answer phone calls during office hours. Dental Support Specialties can pick up any slack, talk to your patients in a friendly manner, and actually schedule appointments.
In the end, your patients want to know that your office will meet their needs and be there for them when they need you. Trusting Dental Support Specialties ensures that no caller fall through the cracks and that your schedule is as full as possible.
About Dental Support Specialties
Dental Support Specialties is unlike any other dental answering service available. Instead of taking messages, our real-life dental professionals are able to schedule appointments using your software. We have years of experience and don't require any training or IT support from your office. In addition, we offer remote administrative services like insurance verification, billing issues, and more. If you would like to learn more about our services, you can contact us through our website.