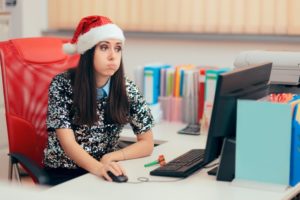 It's the end of October, which means it's the start of the holiday rush. Toward the end of the year, stores aren't the only places that are busy. Dental practices can become bustling centers of activity from October through December because your patients are scrambling to fit in their second checkup and cleaning for the year or other treatment before their insurance coverage resets in January.
Although it's always beneficial for your revenue to have a full schedule, the influx of insurance patients can make your staff's workload much heavier than usual. As a result, you can struggle to get paid on time. That's why you need to outsource dental verification with an experienced team. Keep reading to learn how Dental Support Specialties can help you and your team end the year on top.
Insurance Stress and Customer Service
Your front desk staff are your practice's first line of contact. They answering phone calls and welcome patients to your office. Obviously, this position is critical to getting and retaining patients and your business's revenue stream. But if your team is stretched too thin dealing with insurance issues, customer service can suffer.
Not only does your administrative team need to worry about serving patients in the office, but they also have to handle filing and verifying claims. This process can take hours between being on hold and talking with insurance companies—all for information on just one patient's benefits. Needless to say, dental insurance verification can put a strain on your front desk team during a time when they should be cheerful and merry for those who visit your office.
Starting the New Year Off Right
Let's be honest: most people want to leave 2020 in the dust and start 2021 with a clean, fresh slate. But if you don't have all your insurance claims submitted and verified quickly, you could start the new year missing money you're owed. Begin 2021 on the right foot by making sure the insurance claims are taken care of this year.
How Dental Support Specialties Can Help
Fortunately, you don't have to add the stressful responsibility of insurance verification to your team's long to-do list. You can give it to Dental Support Specialties—our team has years of experience working with insurance companies. We can handle claims for you, allowing your team to continue providing top-notch customer service. When we complete the claims process for you before the end of the year, you can begin 2021 with confidence.
Especially if you have big plans or hopes for your practice in the coming year, you want to make sure you have access to the money that belongs to you. Dental Support Specialties can be an extension of your team and get you the revenue that can help you achieve your goals.
About Dental Support Specialties
Dental Support Specialties was created to offer remote administrative services to dental practices across the country. Staffed by industry professionals with years of experience, we know how to handle insurance claims efficiently. If you have questions about dental insurance verification or if you would like to work with us, you can contact us by clicking here.