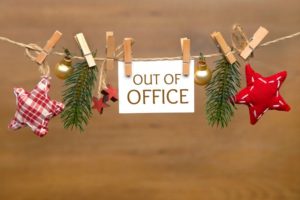 The holiday season is just around the corner, and because this year has not been a typical one, you and your team deserve a break! But wait—while you and your team are enjoying some well-earned quality time with family, who will be answering calls made to your practice? Well, you have three options to choose from for dental scheduling: an answering machine, a run-of-the-mill answering service, or Dental Support Specialties. One stands out as the best, so keep reading to determine which one you should select.
Why Answering Machines Don't Work
Although you can simply set up an automated answering machine and walk away, this system doesn't allow you to actually fill your schedule. The machine leaves appointments needing to be scheduled, questions needing to be answered, and patients needing to be served. When your staff return to work after the holidays, they will have a mountain of messages to listen to and address on top of their normal workload. As a result, your team members may dread the thought of coming back to the office, which is never good for morale.
Impersonal Answering Service
No one likes having to work with a machine over the phone, so it makes sense to go with an answering service. That way, your patients can talk to a real person. At first glance, this may seem like a great improvement. However, if the person answering your practice's phone calls can't actually schedule appointments for you, they aren't much better than a machine taking messages. Your staff will still have to handle responding to the open issues and filling your schedule. In the meantime, the number of patients you see could be sparse for a few days as your team catches up.
The Dental Support Specialties Difference
Dental Support Specialties is unlike other dental answering service companies. Not only can we field incoming calls in a friendly, professional manner, but we can also actually serve patients by scheduling appointments. As a result, when you and your team come back from your holiday vacation, you can get an accurate idea of what your schedule looks like right from the start. Your team doesn't have to waste any time making up for lost ground and can jump back into the flow. Plus, you can rest easy knowing that you're doing everything you can to bring in as many patients as possible—as efficiently as possible.
If you want both to allow your team to truly have happy holidays and keep your practice running optimally behind the scenes, your choice is clear. Dental Support Specialties gives your patients the feeling that your practice is available for them, even when you're closed and you the peace of mind that your practice is in capable hands while you're away.
About Dental Support Specialties
Founded in 2008, Dental Support Specialties offered remote administrative services long before the COVID-19 pandemic. With highly trained and experienced dental professionals, we are able to work within your practice's software to schedule appointments. In addition to this service, we also offer data tracking, insurance verification, and much more. Would you like to learn more about working with us? Contact us through our website or give us a call at 330-639-1333.