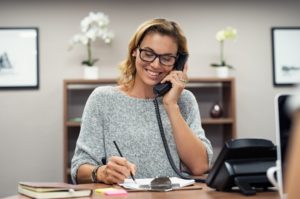 You're not just a dentist; you're also a small business owner. In your practice, you have an important business decision ahead of you. You need to choose between hiring another team member for the front desk to handle dental insurance issues, or you can outsource dental verification to Dental Support Specialties. But how do you know if turning to a service company is the right move for your practice? Here are some signs that you could benefit from outsourcing insurance verification.
You want the value of another employee without the added cost.
When you hand over filing and verifying insurance to another company like Dental Support Specialties, you get all the benefits of having an extra employee. However, you don't have the same extra costs like employee benefits, paid time off, or taxes. Plus, outsourcing means your team doesn't have to cover these responsibilities for sick time or vacation, as you would with an employee. Our service company always has insurance concerns handled.
When you bring a new team member onboard, there's usually a learning curve for them to adjust to your office's protocols, software suite, and other nuances, but you don't have to worry about training us. All of our employees have dealt with insurance companies for years and already know exactly how to get the job done.
You have a large pile of unpaid claims.
If you aren't consistently working on filing and processing insurance claims, they can quickly build up. And that means that your practice goes unpaid. Tackling the pile can be overwhelming and delay payments you're owed, which can hinder your practice's growth and success.
You want to improve office efficiency.
Imagine your front desk team spending hours on the phone talking to an insurance company about a single claim? Unfortunately, this happens all the time. It's a waste of your team's time and your practice's money! When you give us these responsibilities, your staff members are then able to field incoming patient calls, address patient questions and issues, and fill your schedule without insurance concerns hanging over their heads.
Your front desk team could use a boost in morale.
Being put on hold for hours, arguing with insurance companies, and handling little hiccups in the paperwork can be frustrating to say the least, especially if your team has other responsibilities. After getting off an irritating phone call with the insurance company, it can be difficult to put on a happy, friendly face for in-office patients. These unpleasant experiences can affect how your front desk team treats patients, which could impact patient retention and satisfaction.
Dental insurance verification doesn't have to bring down your entire practice or be a burden on your team's shoulders. Let Dental Support Specialties lighten the load and enable your team to be much more productive and welcoming in the office.
About Dental Support Specialties
Since 2008, Dental Support Specialties has provided remote administrative services to dental practices throughout the country. In addition to answering phone calls, we can handle insurance verification with ease. Every employee here has many years of industry experience and knows how to process claims efficiently so that you get paid on time. If you would like to outsource your dental insurance verification, you can contact Dental Support Specialties by clicking here.