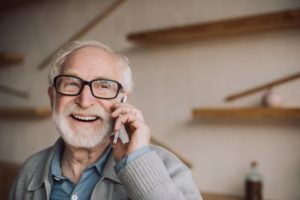 Lately, you've noticed holes in your practice's schedule, and it feels like your team has downtime quite a bit. It doesn't make sense—your patients seem happy and satisfied when they leave, but then why do you struggle with actually completing their treatment? How can you make sure that your patients stay loyal to your practice? Following up with your patients may be the answer to your dental scheduling woes. Read on to learn how this simple tip can make a huge difference in your practice's productivity and revenue.
Remind the Patient about Treatment
After having a consultation and receiving a treatment plan, your patient may want to "think about it" before scheduling the procedure. But if they leave your office without having the procedure scheduled, chances are high that they will simply forget. It's human nature! Your patients are busy, and little things like scheduling a checkup or following up on treatment can slip down the priority list. A quick phone call can help bring the procedure back to the front of their minds.
Your patient may honestly need time to consider moving forward with the procedure, sometimes for financial reasons. During the follow up call, you can remind them about financing options available to them to make treatment more affordable.
Show the Patient You Care
Although bringing in new patients is always exciting, if you want long-term success, you need to retain the patients you already have. What keeps patients coming year after year? It's the feeling that all their unique needs are being met, that the dental team genuinely cares about them.
When you call a patient and give a friendly reminder about their six-month checkup or their plans for a procedure, it lets them know your practice values their patronage. It shows that you care enough to reach out to them individually and give them personalized attention.
Keep Your Team Productive
Perhaps it's your team that has holes in their hygiene schedule. A break here and there is nothing to worry about, but if they don't stay busy, your practice stands to miss out on significant revenue. When they have time, have your front desk team make follow up calls to schedule overdue six-month checkups and cleanings. That way, even if you don't have complex, expensive cases, your practice can still bring in reliable, steady income with hygiene appointments.
What if your team already has a full plate? Who can take on this responsibility and be the answering service you need? Dental Support Specialties can perform follow up calls for you, allowing your team to focus on your patients as they should.
Following up with your patients may seem simple, but it can have many positive effects on your practice's road to success. You can form lasting relationships with your patients and get your schedule filled, both of which lead to more revenue and opportunities to grow.
About Dental Support Specialties
Long before COVID-19 struck, Dental Support Specialties has been remotely offering administrative services to dental practices. In addition to filing insurance claims, we can reach out to your patients to schedule incomplete treatment and keep your hygiene schedule full. If you have questions about our services, you can contact Dental Support Specialties by clicking here.