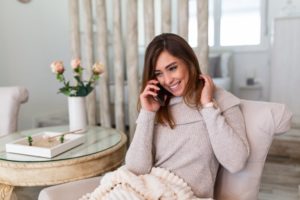 Even though the holidays are still a few months away, you're trying to plan ahead. You know that your staff will ask for time off to travel and be with their families, but you need to have someone cover the phones at your practice. Do you settle on someone who can write down messages? Or do you find a dental answering service that does much more? At Dental Support Specialties, we're not your typical service company—when you turn to us for phone support, you can get these amazing benefits for your practice.
Make a Positive Impression over the Phone
For many patients, their first contact with your practice occurs during the initial phone call. Right off the bat, you want them to feel that your office is able to take care of their needs, that you're available for them. If you send your phone calls to other answering services, your patients could be met with a person (or worse a machine) that only takes messages. With this setup, the callers hang up disappointed and unsatisfied, knowing that they'll have to deal with making an appointment later.
This is a golden opportunity to make a powerful first impression for those who call in. That's why Dental Support Specialties has friendly, competent professionals with years of experience in dentistry. We can make sure your patients have a positive, smooth experience even before they come into your office!
Increase Practice Productivity
During peak hours or busy seasons, it can be helpful to have an answering service to bear the excess phone-call load. But if it only allows you to take messages, then your team's productivity can take a significant hit. Listening to the messages and returning calls to get ahold of the patients requires time (and time means money) that your staff could use to accomplish other necessary tasks.
However, Dental Support Specialties can do more than just take down their call-back number and pass along a message. We can actually schedule appointments and keep your schedule full! That way, you don't waste precious time, and you and your team stay busy. As a result, you can bring much more revenue.
Improve In-Office Care
Between answering phone calls, checking patients in and out, and filing insurance claims, your front desk team can become overwhelmed. Unfortunately, as much as they may try not to let it, this stress is bound to impact the practice's atmosphere and way they interact with patients inside the office. That's where Dental Support Specialties can take over these other responsibilities so that your team is free to create a calm, happy environment for your patients.
Build Loyalty with Patients
Even though Dental Support Specialties isn't technically part of your in-office team, we aim to operate as if we were. We know that your relationship with your patients is vital when it comes to retention, which is exactly why we treat each caller as a valued, appreciated customer in the hopes that it will help establish trust that lasts for years to come.
Taking good care of your patients is one of your top priorities. At Dental Support Specialties, we share that same philosophy and can be a valuable asset to your team when you need help with phone calls, whether it's during your busy season or while your team is out for lunch or vacation.
About Dental Support Specialties
Dental Support Specialties was founded in 2008 and has been remotely serving dental practices throughout the United States. Familiar with most dental software suites, we require little to no training and can work with your office's protocols and systems. In addition to answering incoming phone calls, we can also help with dental insurance verification and other administrative tasks. If you would like to learn more about how we take care of callers, you can contact us by clicking here.