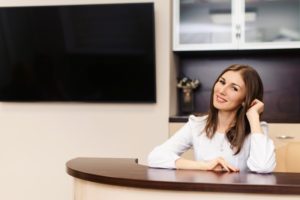 As the saying goes, good help is hard to find. That has definitely proven true for you as you've searched for the right team members for your practice. You've struggled to build a successful practice, but you know you need strong support to reach your goals. As you look through a resumes and interview candidates, you wonder if there's an easier, better way to build the team you want. Here are some common struggles with staffing and how Dental Support Specialties' dental answering service could be the perfect answer to your problems!
Less Loyalty
These days, people seem more restless in their careers than in the past. In fact, according to the U.S. Bureau of Labor Statistics, the median tenure of workers with the same employer is about 4.1 years. Unfortunately, when you're hiring, you may need to consider how long you'll likely have the person on your team, especially if they show a consistent lack of commitment to their employers in the past.
Dental Support Specialties has been in business since 2008 and has 12 support specialists on staff, many of whom have worked with the company for multiple years. We have workers who love what they do and enjoy meeting the needs of your patients. With so many proficient, friendly team members on our staff, you don't have to worry, we'll always have another trusted support specialist help with your practice.
Training Required
Even if a candidate has years of experience in the dental field, there's no guarantee that they know how to work with the software suite you use in your practice. If they don't have transferrable skills, they could require significant time and resources to train and get them up to speed.
At Dental Support Specialties, we employ dental professionals who not only have the industry experience but the know-how to work with basically any software—with little to no additional training, saving you time and headaches.
Fewer Unemployed Workers
Before the pandemic, the unemployment rate was consistently under 4 percent, which is good for the overall economy. However, this rate also made finding high-quality workers looking for employment more challenging.
Because of the COVID-19 pandemic, the unemployment rate experienced a spike and has steadily declined. As of September 2020, the unemployment rate is 7.9 percent. At first glance, this can seem to offer dental practices the chance to find good workers, but with advanced health and safety protocols, many offices treat fewer patients and may not be able to hire full-time individuals for their team. Whether you need extra help full-time or just a few hours covered, Dental Support Specialties can fill in for however long we are needed.
If you are struggling to build a reliable team, you don't have to look far to get find what you want. Dental Support Specialties has compassionate, skilled, and dedicated personnel who can meet your practice's evolving needs.
About Dental Support Specialties
Dental Support Specialties provides remote administrative support to dental, periodontal, and oral surgery practices. With a total staff of more 21, we are able to offer answering services for incoming calls, support for filing insurance claims, making collection calls, and much more. If you would like to work with Dental Support Specialties, or if you have questions about our services, you can contact us by clicking here.