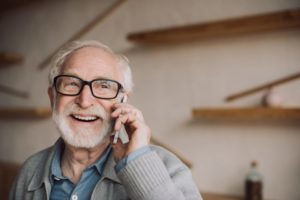 You've been practicing dentistry for many years now. Over that time, you've undergone countless hours of training, dealt with a myriad of different scenarios, and served thousands of patients. In other words, in your practice, experience matters. At Dental Support Specialties, we couldn't agree more—experience in the dentistry field is priceless, especially when it comes to serving patients.
With 30 people on our team, we have approximately 400 years of total experience. That's 400 years at your practice's disposal to act as your dental answering service, schedule appointments, perform dental insurance verification, and represent your practice.
Passionate from the Start
From the very beginning of our company, Dental Support Specialties has employed truly dedicated administrative staff who have not only dentistry experience but also a genuine passion for helping people. We recognize the importance of our work for your practice and for the patient individually, which is why we are always positive, productive, and helpful.
Mary Beth Bajornas first opened Dental Support Specialties because she was passionate about this work and wanted to continue contributing to the success of dental practices even though she couldn't physically be in the office. Since 2008, when the company first began, we've assembled a team with the same goal—to meet patient needs and help practices succeed.
No Training Required
One of them major benefits of hiring someone who already has plenty of experience is that you don't have to worry about getting them up to speed. Overall, that saves you valuable time and effort that you can use elsewhere. We are already familiar with your software, don't require your attention and direct supervision, and enable you to focus on providing the outstanding care that your patients have come to expect of you and your team.
Consistently Strong Customer Service
When patients call your practice to set up an appointment, you want them to interact with someone knowledgeable, friendly, and professional, right? However, many administrative teams are stretched thin, having to work with in-office patients as well as manage incoming phone calls. This can lead to unnecessary stress for your team and frustration for your patients.
Dental Support Specialties embodies all of the desirable traits you could want in an administrative team and allows your staff to focus on providing your in-office patients with a pleasant experience, leaving them with a positive impression of your practice and a desire to return in the future.
Ultimately, your patients come to you because they trust in your experience and training and trust that you'll get the job done correctly. You should have a team you can trust as well. Dental Support Specialties has the experience and drive to help your practice flourish.
About Dental Support Specialties
Mary Beth Bajornas started Dental Support Specialties in 2008 when she needed to stay home to be with her premature baby daughter. Our staff now includes 30 team members who have extensive backgrounds in dentistry, are familiar with latest scheduling and billing software suites, and enjoy helping patients smile. If you have questions about Dental Support Specialties, you can contact us by clicking here.