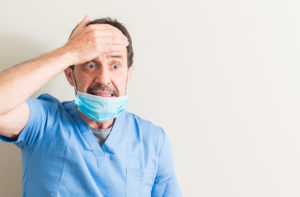 In an ideal world, patients would pay for their dental treatment completely out of pocket without needing dental insurance, but we don't live in an ideal world. In fact, for many practices, dental insurance is almost considered a necessary evil, a way that patients are able to afford basic services. Although this payment method adds several steps to the process, did you know that dental insurance doesn't have to be such a hassle for you and your team? Read on to learn how you can get dental insurance support for your practice.
Headaches of Dealing with Insurance
Let's face it—insurance companies can be difficult to work with to say the least. In addition to perfectly filed claim forms, they often require phone calls to verify the information and other follow-up tasks before you see the money you're owed. With all the time and frustration that your team spends on insurance claims, it's enough to make you want to not accept dental insurance.
Ask your front desk team, and they'll tell you just how tedious and draining working with dental insurance can be. When they are either in the middle of an insurance task or just finished it, it can be challenging to put on a happy face for patients who are in the office. As a result, your practice's customer service can suffer.
Why You Need Dental Insurance
Even though dental insurance can be a thorn in your side, it can also be a strong means of gaining revenue for your practice. With so many patients depending on dental insurance coverage to make their oral care affordable these days, you could stand to lose significant business by not working nicely with insurance. When you have staff members who know the ins and outs of dental insurance, the process can be much simpler and faster, allowing you to appeal to more patients and reap the rewards of accepting dental insurance benefits.
How We Can Help
Fortunately, you and your team don't have to deal with these frustrations alone! The staff at Dental Support Specialties has many years of experience in dentistry and understands how the system works. As a result, we can take over dental insurance verification for you. Especially if you have a growing aging report of unpaid insurance claims, our services can be invaluable for your practice's bottom line.
Instead of overloading your staff with time-consuming, mentally draining busy work, you can actually help them create the environment you want for your patients. When you give this responsibility over to our team, you also give your team the time and ability to handle the rest of their duties, such as answering questions and scheduling follow-up appointments with in-office patients, with a positive, welcoming attitude.
About Dental Support Specialties
For more than 10 years, Dental Support Specialties has offered remote administrative services for dental practices across the country. Our team members have years of experience working with dental insurance and feel comfortable tackling even the largest aging reports. If you have questions about handling dental insurance, or if you would like to work with DSS, you can contact us by clicking here.