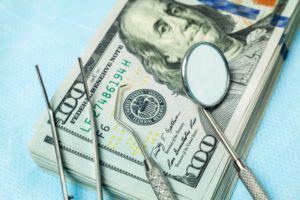 As a small business owner, you know that every dollar counts. In order to flourish, you need to bring in more than you spend, which is why you take every decision about your dental practice seriously. When you think about hiring a company for any kind of service, you naturally wonder how much it will cost you. However, while considering Dental Support Specialties to serve as your dental answering service, your first question should actually be: how much could these services save my business? Below you'll find # ways that we can help your practice's bottom line for a great return on investment.
Reduce Your Aging Report
A growing stack of unpaid insurance claims are not the same as cash in the bank. These bills deprive you and your practice of money that you could use to purchase new equipment, hire more employees, or take other steps to grow your business. That's why it's important to stay on top of dental insurance verification, follow up with companies, and ensure that you're paid on schedule. Our team at Dental Support Specialties is familiar with all the ins and outs of dental insurance and can complete all the necessary steps of insurance claims efficiently, which substantially saves your staff time that they can devote to other office duties.
Collect Payments You're Due
Whether from the insurance company or from your patients directly, your practice won't be able to move forward without collecting payments on time. But these phone calls require a significant amount of time and can be taxing on your team members. When talking to patients about their outstanding bills, the situation needs to be handled with care so that they don't get a negative impression of your practice. By delegating collection calls to us at Dental Support Specialties, you take this stressful task off your team's shoulders and allow them to focus on exceptional patient care in the office.
Provide Better Customer Service
In addition to your clinical expertise, your patients come to you because they trust you and your team. When they feel comfortable in your office and enjoy a pleasant environment, they are much more likely to come back again, both for hygiene appointments and for other more complex work. However, if your team's morale is low or negative, patients may feel less inclined to return. Without the responsibility and headache of dealing with insurance claims, your team can serve patients with a friendly, positive attitude.
With all these money-saving benefits, can you really afford not to use our services? How could you grow and improve your practice with the funds that you'll bring in? Allow our team to change the way your practice works for the better.
About Dental Support Specialties
Mary Beth Bajornas started Dental Support Specialties in 2008 after years of experience in dental practice administration. We offer answering services, insurance verification, chart auditing, and more, all of which can help your office work as efficiently as possible. If you would like to have a complimentary support analysis or if you would like to learn more about our services, feel free to contact us.