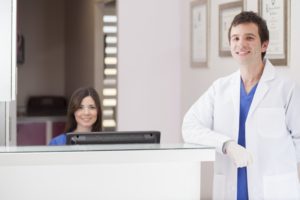 At your dental practice, you and your team have struggled to find your groove. Although you take good care of patients once they're in the treatment chair, the logistical parts of their visits can be a bit rocky. Staff members are still learning or even forming established protocols and systems, meaning that your practice isn't running as smoothly as you'd like. The last thing your practice needs is yet more steps to add to their workload.
The good news is that working with Dental Support Specialties can take care of these issues without giving your team more stress. Using us for many of your practice's administrative tasks, such as dental answering service, you can create a better environment for your patients to care for their smile. In this blog post, you'll learn about the ways we are able to seamlessly blend into your practice and get it on track for more success.
Training
Our team members have been working specifically in dental administration for years and understand all the intricacies of dealing with dental insurance verification, dental scheduling platforms, and other unique challenges. We easily adapt and cater to your practice's personality and work flow. If your practice has a unique protocol, don't worry! Our team is able to learn it quickly and integrate into your team without delay.
Hardware & Software Knowledge
We are familiar with most of the dental software used in the industry. In fact, we can log onto your practice's workstation through secure remote internet access and perform the tasks you need to have completed. To take advantage of this service, you don't have to add any special software or equipment or train your current staff at all. We do the heavy lifting and free up your staff for taking care of in-office patients.
Consistent Staffing
Your team members need to take time off work for vacation and sickness, but that can leave your practice short staffed and important tasks incomplete. In contrast, our large team is always well staffed—even when yours isn't—which means that no patient phone call goes unanswered and no insurance claim sits unprocessed.
Simple Information Requests
Dental Support Specialties is aware of HIPAA requirements and is completely compliant. When we need to make information requests, they are handled quickly and correctly so that your team's daily operations aren't disturbed.
Managing your practice doesn't have to be a source of frustration, stress, or tension. When you choose to work with Dental Support Specialties, you don't have to lift a finger. We take care of the behind the scenes tasks that keep the practice moving in the right direction.
About Dental Support Specialties
Founded in 2008, Dental Support Specialties is the only remote service company specifically designed to help dental practices with administrative tasks. In addition to answering phone calls, we can handle insurance verification, aging reports, and accounts receivables to ensure that your practice is paid on time. If you have questions about the team members at Dental Support Specialties, you can contact us by clicking here.