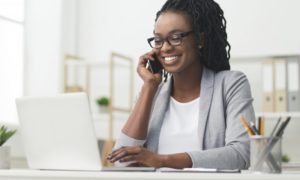 "It's hard to find good help these days." There's a reason why this is a famous saying—it is often true! Finding people for your front-desk dental team who are hardworking, honest, friendly, helpful, knowledgeable, and available can feel like an overwhelming task. But you need this type of person to represent your practice when people call. Where can you find the perfect employee for this responsibility? Well, you can rely on Dental Support Specialties to serve as your dental answering service.
We Never Call in Sick
People get sick every once in a while. Or they go out to lunch or take vacation time. You can't expect your team to be available to answer phones all the time. Our team, however, has 12 support specialists and 4 account managers whose primary job is to cover phone calls to your practice. We can fill in holes or even full days that your team can't cover. As a result, you don't have to worry about potential patients falling through the cracks.
We Get Up-to-Speed Quickly
In your profession, you know that experience matters. Each employee at Dental Support Specialties has worked specifically in the dentistry field for years, decades in some cases. During this time, we've become experts in dealing with insurance, scheduling appointments, and fielding phone calls. We can learn your practice's processes and systems rapidly, allowing you to focus on providing exceptional care for your patients in the office while we handle incoming calls. In some cases, we are even able to provide helpful, proactive suggestions for improvement to improve your practice's systems for more efficient productivity.
We Get Along with Everyone
Our team members love helping and interacting with people. It's why many of us chose this field as a career in the first place! When talking to your patients, we will reflect the same warm, friendly tone that you expect from your own team, helping patients develop a trusting relationship with your practice. Also, we see ourselves as being extensions of your dental family, which is why we happily collaborate with your employees and treat them with respect. Plus, while we're answering the phone, your team members can then focus on giving in-office patients better service.
We Believe in Accountability
Many companies hesitate to hire remote workers because they fear that these employees will goof off or not complete their work. At Dental Support Specialties, we actively build on trusting relationships. How do we do that? At the end of every day, we account for our time; that is, we provide a list of everything we accomplished to show the value we added to your practice.
Even if you have an amazing team already in your practice, there comes a time when you may need extra support. Whether your staff members are out to lunch, they are overwhelmed with other tasks, or you want to entrust incoming calls to the experts, the Dental Support Specialties team can make all the difference and help your practice continue to grow and prosper.
About Dental Support Specialties
Dental Support Specialties was started in 2008 and currently has 21 employees in the company. In addition to answering phone calls, we can handle insurance verification, accounts receivables recovery, and other special projects. If you have questions about our services, or if you would like to have a complimentary support analysis, you can contact us by calling (330) 639-1333 or clicking here.