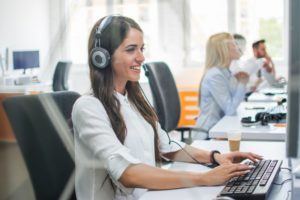 Especially with the holidays coming up, you have team members at your practice who will be taking time off. You're happy to let your hardworking employees enjoy time with their families, but their absence means that no one will be available answering the phones during stretches of time. Although you could use a run-of-the-mill dental answering service to do the bare minimum, Dental Support Specialties goes well above and beyond the norm and actually helps your practice succeed while your team is otherwise occupied. Keep reading to learn four advantages to choosing Dental Support Specialties!
Build Connections with Patients
Is there anything more impersonal than dealing with a machine on the phone? No one likes having to interact with a machine, and when your patients call, they would much prefer to talk to a real person. That way your patients know they will receive truly personalized care at your practice.
Project a Positive Image for Your Practice
For many, talking with a person is better than leaving a message with a machine; however, it isn't enough simply to record a message, even if it's with a person. Your patients may hang up wondering why they couldn't schedule their appointment or address their concern right away, giving them a negative impression of your practice. The Dental Support Specialties team is caring, capable, and helpful, so your patients get what they need when they reach out to your practice.
Increase Your Production and Maximize Your Schedule
With other answering service companies, your team returns to a stack of messages that they have to deal with, putting them behind schedule with their regular work load. Plus, your schedule can have holes, affecting your bottom line. Dental Support Specialties can actually meet your patients' needs by scheduling appointments. In addition, we can provide dental insurance verification, which means that you get paid sooner. As a result, you have more opportunities to make money!
Allow Your Team to Focus on In-Office Care
Simple answering service doesn't actually save your team any time or work. In fact, it adds to their to-do list and takes their attention away from the patients who are in your office. Turning to Dental Support Specialties lightens your team's load, making it easier for them to have a more pleasant attitude and enabling them to provide better service to patients in person. As a result, your patients can leave your practice feeling well cared for and ready to come back in the future.
Whether it's just during times when your team is out like this holiday season or on a regular basis throughout the year, Dental Support Specialties can serve as your practice's answering service and give you so much more in the process.
About Dental Support Specialties
Dental Support Specialties has been assisting with answering phones and scheduling since 2008. With more than 20 experienced team members dedicated to supporting dental practices, Dental Support Specialties can provide the services you need to keep your practice running smoothly. To receive your complimentary support analysis, call (330) 639-1333 or click here.